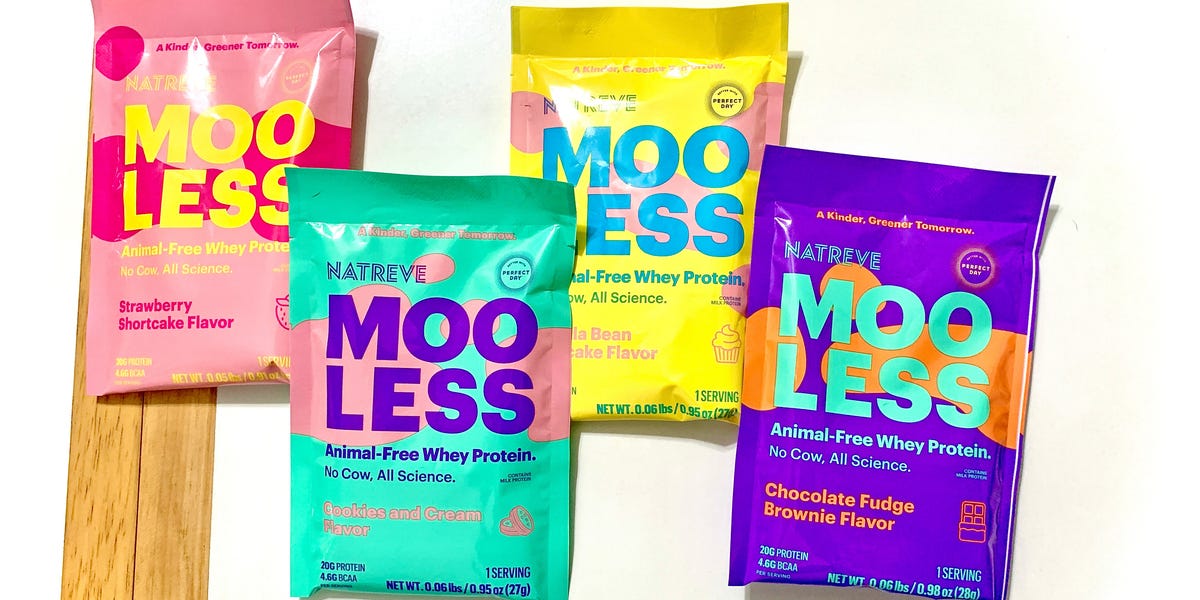 Natreve Mooless Animal-Free Whey Protein Review: It's Whey
With its no-compromise approach to nutrition, Natreve rocked the supplement industry with the recent launch of Mooless. The first-of-its-kind animal-free whey protein powder takes the cow out of the equation, while providing the same performance benefits as the bovine-sourced original.
Made with Perfect Day's animal-free whey protein, which harnesses the power of microflora given an exact copy of the DNA sequence corresponding to cow's milk protein, Mooless can be a great sustainable alternative to traditional supplements.
Ever since the cow-free protein source launched — and with the recent expansion to over 690 Vitamin Shoppe stores nationwide — we've been curious to find out just how effective this powder could be. How would our body react to the whey produced by the microflora? Would the supplement mix well in a shaker? How would it taste?
So, with a bottle of blender in hand, we decided to tackle the tough, albeit tasty, questions. Here's what we found.
Mixing Mooless is as easy as tear, pour, shake
One of the most popular benefits of Natreve's animal-free whey protein powder isn't the flavor or the nutritional benefits, but rather the individual, single-serving packets. Instead of digging in a tub to find a buried spoon and then looking at a "rounded" portion, you just rip the packet and go. No measuring, no hands covered in powder. The individual sachets also made it easy to travel with ready-to-use protein, allowing us to perfectly capture that anabolic window after long workouts at the gym.
The packaging calls for the powder to be mixed with 12 ounces of liquid, which is a good amount for a shake that's not too thick but not too thin. We tested Mooless with water and found no mixing issues, but if you really want to give your protein shake a kick of flavor, we recommend mixing Mooless with your favorite non-dairy milk. (Whole milk defeats the purpose, doesn't it?)
Mooless is animal-free, but not flavorless
Some protein powders contain a bit of a chalky, lingering taste that confirms you're drinking a protein shake. Mooless, on the other hand, offers plenty of pleasant flavor. All four varietals — Vanilla Bean Cupcake, Chocolate Fudge Brownie, Cookies and Cream, and Strawberry Shortcake — taste exactly like their names, which may leave you wondering if they're nutritional supplements or indulgent treats.
After testing the full line, we found ourselves reaching for the Chocolate Fudge Brownie more often as the flavor of choice. Chocolate-addicted prejudice aside, there's no bad taste in the bunch. Just pick the flavor that's right for you and you won't be disappointed.
Digestible performance in just 100 calories
When taking Mooless, we found that the shakes were gentle on the stomach and didn't give us the typical rumbling or bloating associated with other whey powders. This speaks to the lactose-free, gluten-free and hormone-free composition of the product. Plus, each serving provided 20 grams of protein, regardless of flavor.
The 100 calories per serving was also enough to fuel us in the morning without straining our food system, and proved to be a great mid-afternoon snack for that extra boost to end the day. Although there was some variation by flavor in some of the micronutrients – our favorite chocolate fudge brownie had a little more potassium and iron, for example – we didn't feel like it was missing any of the micronutrients. ingredients in all areas.
In terms of performance, well, any whey protein powder is subjective. We are constantly striving to gain muscle, so we can't speak, at this time, about how Mooless has affected our training. From a digestive perspective, however, we have noticed a positive difference compared to traditional whey.
Natreve Mooless: the verdict
Despite all the benefits surrounding Mooless, the cost is still high compared to other supplements. At around $4 per serving, it's one of the most expensive protein powders on the market. Mooless is in a class of its own, however, as the only animal-free source of whey protein, so take the comparisons with a grain of salt.
If you have a restrictive diet or want the benefits of whey protein without a carbon footprint, Mooless can be a great option. But if you're just looking to add a powder to your nutritional routine, you can save money with other options. Natreve makes a damn good protein…but for now, we're still thinking with our wallets.
This content is created and maintained by a third party, and uploaded to this page to help users provide their email addresses. You may be able to find more information about this and similar content on piano.io