What is Vegan Cream Cheese? Plus, your guide to the best dairy-free brands
For something so simple, dairy-free cream cheese has become a hot topic. Some prefer a layer so thin it's practically translucent while others prefer a two-to-one ratio of cream cheese bagel. Then there are the flavors – plain, everything, chives, smoked salmon, cinnamon and raisins (don't @ us for the latter – it exists, even if you don't like it). Whether you're looking for the best dairy-free cream cheese for bagels or for desserts, use this guide to navigate the swirling, luscious wonders of a vegan schmear.
What is Non-Dairy Cream Cheese?
To clarify, when we say "dairy-free cream cheese" we are also referring to vegan cream cheese. We've yet to find dairy-free cream cheese that isn't vegan, largely because other animal-based ingredients aren't typically used to make the basic schmear. Packaged cream cheese is made from pasteurized whole milk, salt, locust bean gum (thickener, stabilizer and emulsifier) ​​and cheese cultures. Most homemade vegan cream cheese recipes replace the cultures with an acid, like lemon juice, to curdle the dairy-free base.
To make a vegan version of a traditional product that relies on cow's milk, a few additional ingredients are needed. Different companies rely on different foods and techniques to achieve this thick texture and slightly tart taste. Tofutti, for example, uses soy, a blend of oils, and non-dairy lactic acid; more recent vegan cream cheese innovators such as Miyoko's Creamery rely on cashews, coconut cream and vegan cultures. One day it might even be made using precision fermentation, an emerging technique that is slowly making its way into the vegan food space. Only time will tell.
There are a seemingly endless number of ways to make it, but the general rule is emulsification of fat, liquid, salt and cultures, sometimes with the addition of a stabilizer.
Is dairy-free cream cheese healthy?
Although dairy-free cream cheese ingredients vary, the nutrition label from brand to brand is similar. Vegan or not, cream cheese is high in calories and fat, and "healthy" is a relative term. Because it doesn't use cow's milk, it's trans fat-free and tends to contain less saturated fat than an animal-based schmear. Too much saturated fat is associated with higher levels of low-density lipoprotein (LDL), also known as "bad" cholesterol. High levels of LDL may increase the risk of heart disease, according to the American Heart Association.
The safety of vegan cream cheese varies from brand to brand. If you're concerned about saturated fat, keep an eye out for vegan cream cheeses made with coconut oil. Coconut oil contains about 90% saturated fat.
If you're looking for one that's better for you, avoid dairy-free, oil-based varieties and stick to those made with whole-food ingredients like nuts, seeds, or even beans. That's not to say vegan oil-based cream cheeses are bad for you. Oil can be a healthy part of your diet when consumed in moderation.
The Best Dairy-Free Cream Cheese Brands
Below are our top vegan cream cheese picks, whether you use them for breakfast, lunch, dinner, or dessert.
kite hill
1 kite hill
An outlier in the vegan cream cheese market, Kite Hill uses almond milk as the base for its many creamy spreads. It's slightly thinner than other brands, but what it may lack in thickness it makes up for in flavor. Options include plain, chives, everything, and garden vegetables.
Find it here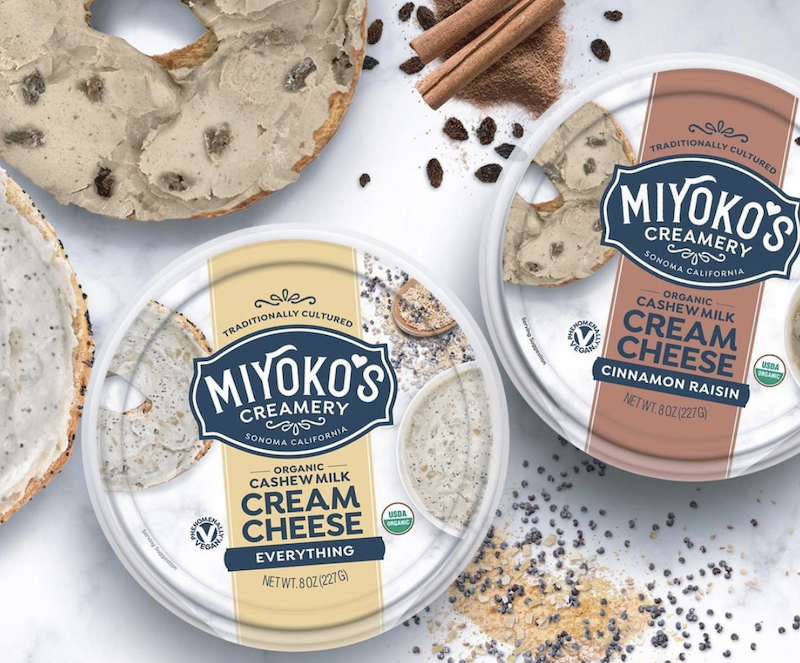 Miyoko Creamery
2 Miyoko Creamery
Looking for something with minimal ingredients? Miyoko's is a solid choice. Made with only cashews, coconut cream, salt and cultures, this product is as raw as it gets in the schmear department. It's super thick and velvety and comes in five flavors: Classic Plain, All, Salted Shallots, Fishless Smoked Salmon, and Cinnamon Raisins.
Find it here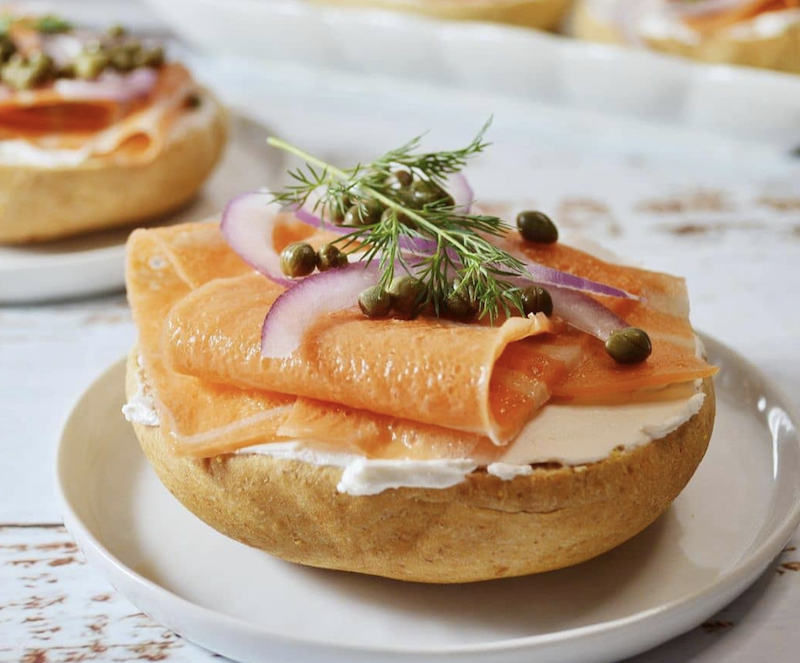 @thejewishvegan/Instagram
3 Tofutti
From the makers of novelty ice cream, Better Than Cream Cheese from this old-school vegan brand lives up to its name. While newer brands may have received more hype, this schmear is perfectly usable in baked goods and on its own. You can find it in most grocery stores and it's also the most affordable option.
Find it here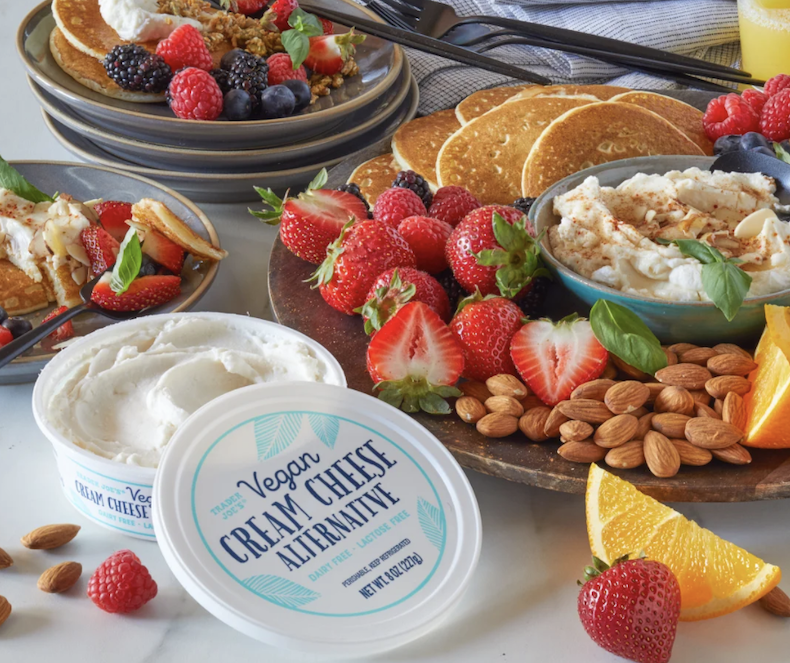 Trader Joe's
4 Trader Joe's
The grocer is well on its way to offering a vegan option for every product it sells. Labeled as a vegan alternative to cream cheese, this plain spread is another win for all plant-based Trader Joe's shoppers. Pro tip: Mix up a few shakes of Trader Joe's Everything Bagel Seasoning to make this schmear a little more interesting.
Find it here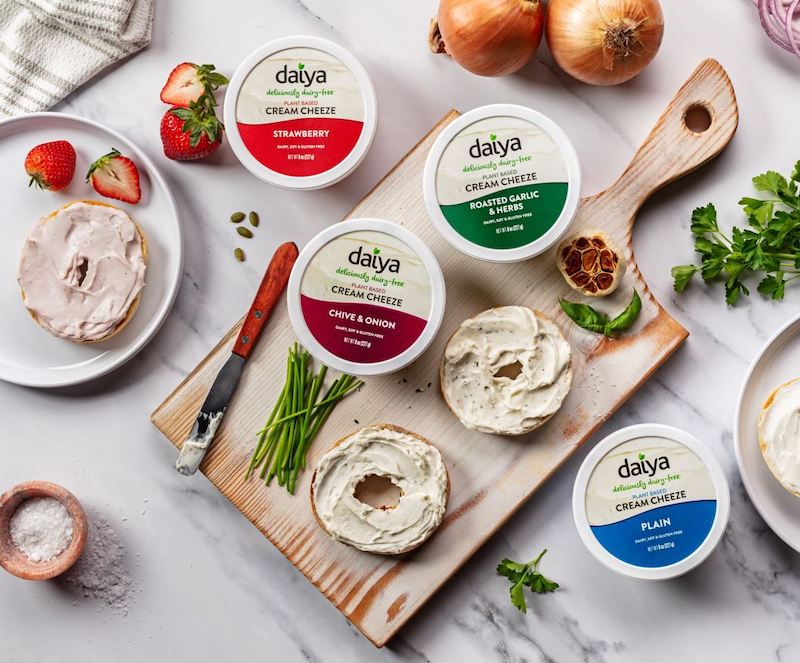 Daiya
5 Daiya
Name a dairy product, and this longtime vegan company probably makes it. The brand recently reformulated its inaugural cream cheese to improve its rich taste and silky texture. Of the four flavors, our favorite is roasted garlic and herbs. Also, if you were wondering, it's pronounced Day-ah.
Find it here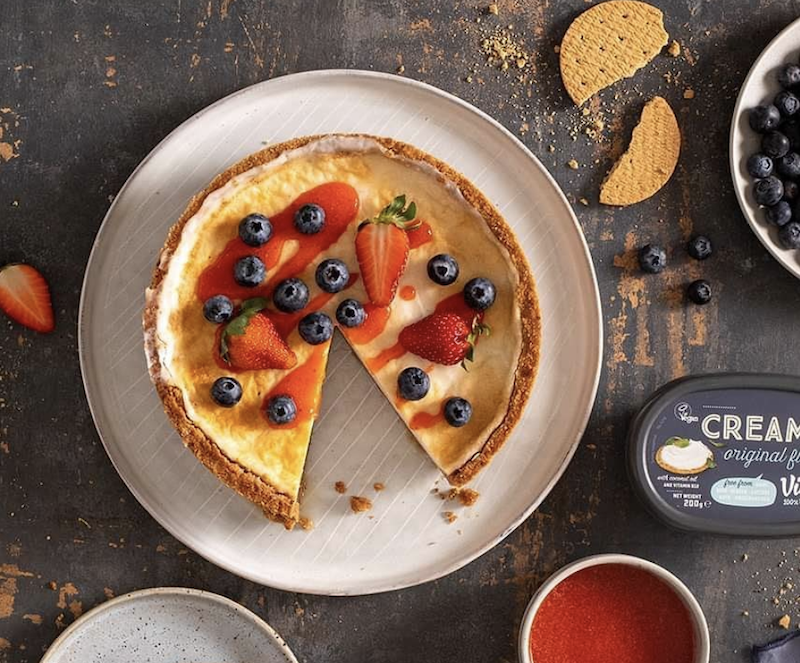 viollife
6 viollife
Perfect for baked goods like vegan cheesecake and swirled cream cheese brownies, Violife's Just Like Cream Cheese is a relatively new product under the name of this non-dairy food brand. If you're looking for the best vegan cheesecake recipe, keep reading for our top pick.
Find it here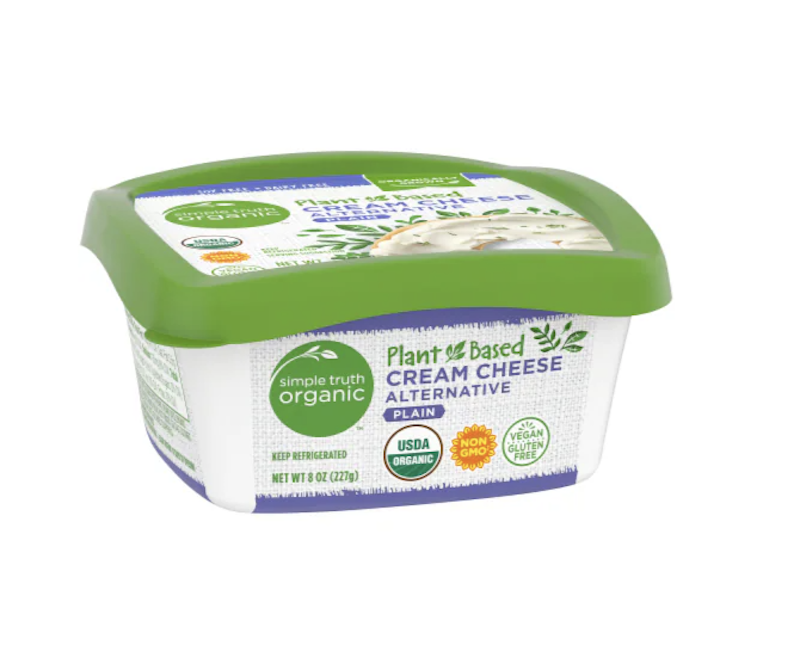 simple truth
sevenKroger Simple Truth
Kroger's Simple Truth organic plant-based cream cheese alternative is just one of more than 50 new vegan products launched by the brand line in fall 2020. When a major supermarket invests in Non-dairy cream cheese, you know the "trend" is here to stay.
Find it here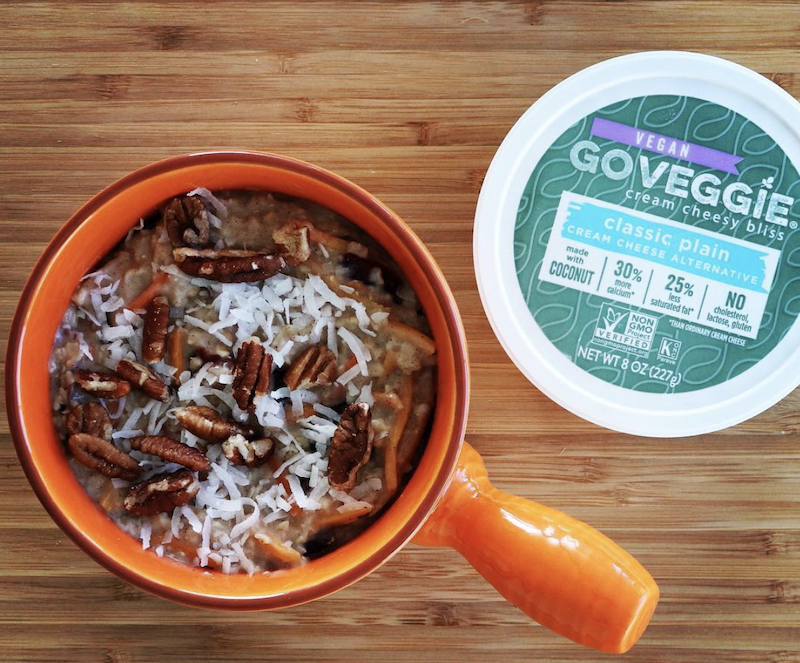 Go Vegetarian
8 Go Vegetarian
Have you ever bought a tub of non-dairy cream cheese only to find you took the chive and garlic flavor right before you made your vegan cream cheese frosting? Yes, we have been there. Go Veggie offers both chives and garlic and the classic plain, and while both are creamy and delicious, be sure to check the label if you're making something sweet.
Find it here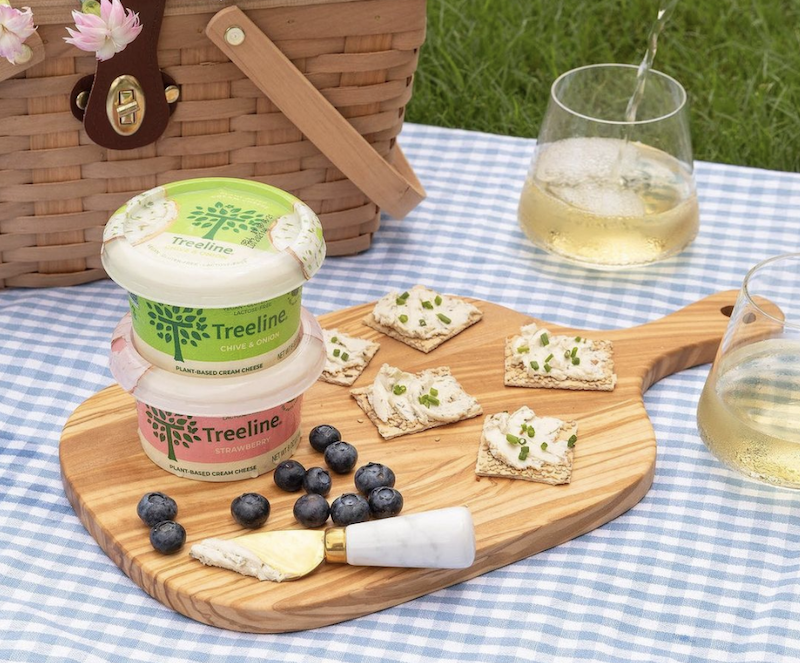 tree line
9 tree line
After gaining popularity with their scrumptious European-style soft vegan cheeses, it's only natural that this company would produce a decadent dairy-free cream cheese. The three minimal ingredient flavors include plain, chive and onion and strawberry.
Find it here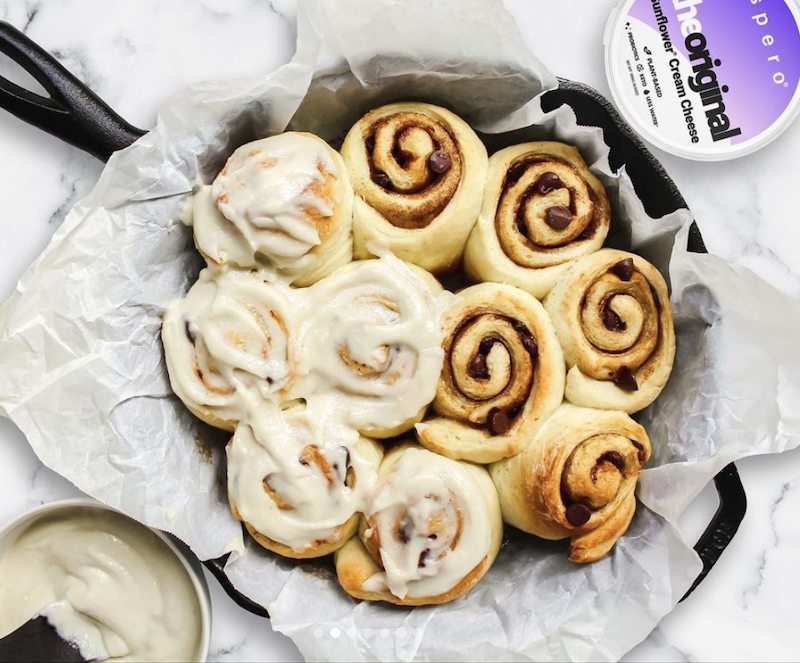 Spero
tenSpero Foods
This brand of soft vegan cheese differentiates itself from others by using sunflower seeds for its thick and creamy base. Each of the flavors is infused with probiotics to best mimic their dairy-based counterparts. Choose from the Original, Strawberry, Smoked, Smoked Salmon and Herb varieties the next time you have toasted bagels waiting for you at home.
Find it here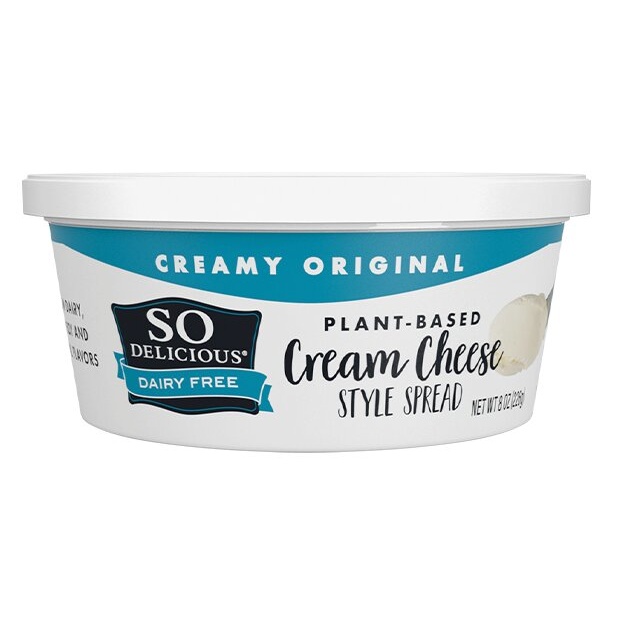 so delicious
11 so delicious
Famous dairy alternative brand So Delicious has entered the world of vegan cream cheese with two flavors: Original and Chive & Onion. Both flavors are made from coconut oil and are perfect for bagels, crackers, sandwiches and dips.
Find it here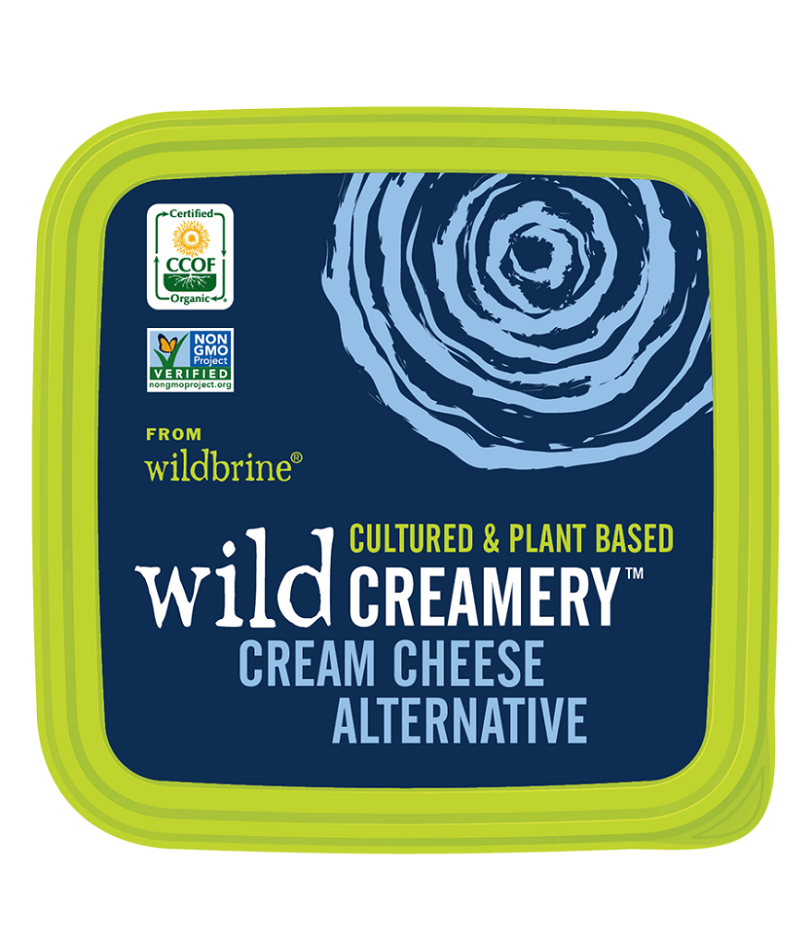 wildbrine
12 wildbrine
This creamy, dairy-free cream cheese is made from a blend of cashews and coconut cream. It gets a boost of gut-healthy bacteria from lactobacilli strain cultures and is versatile enough to use as a spread or in decadent desserts.
Find it here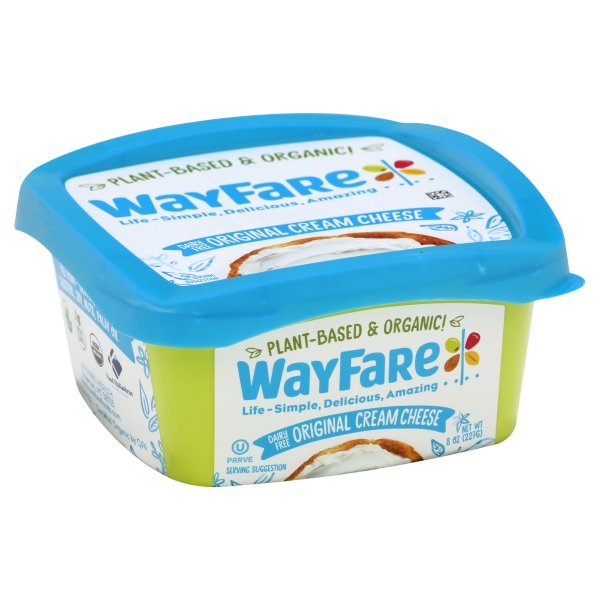 WayFare
13 WayFare
Known for its vegan sour cream and butter, this plant-based brand's cream cheese features a base made with organic butter beans and organic oats. The result is a thick-textured dairy-free spread that's perfect for bagels and crackers.
Find it here
For more on vegan cream cheese, read:
The VegNews Guide to Vegan Cheese
Dairy Free Coconut Cashew Cream Cheese
Vegan bagel with lox and cream cheese
Happy Birthday VegNews! To celebrate, we're having a mega subscription sale, with amazing vegan prizes.
Happy Birthday VegNews! To celebrate, we're having a mega subscription sale, with amazing vegan prizes.