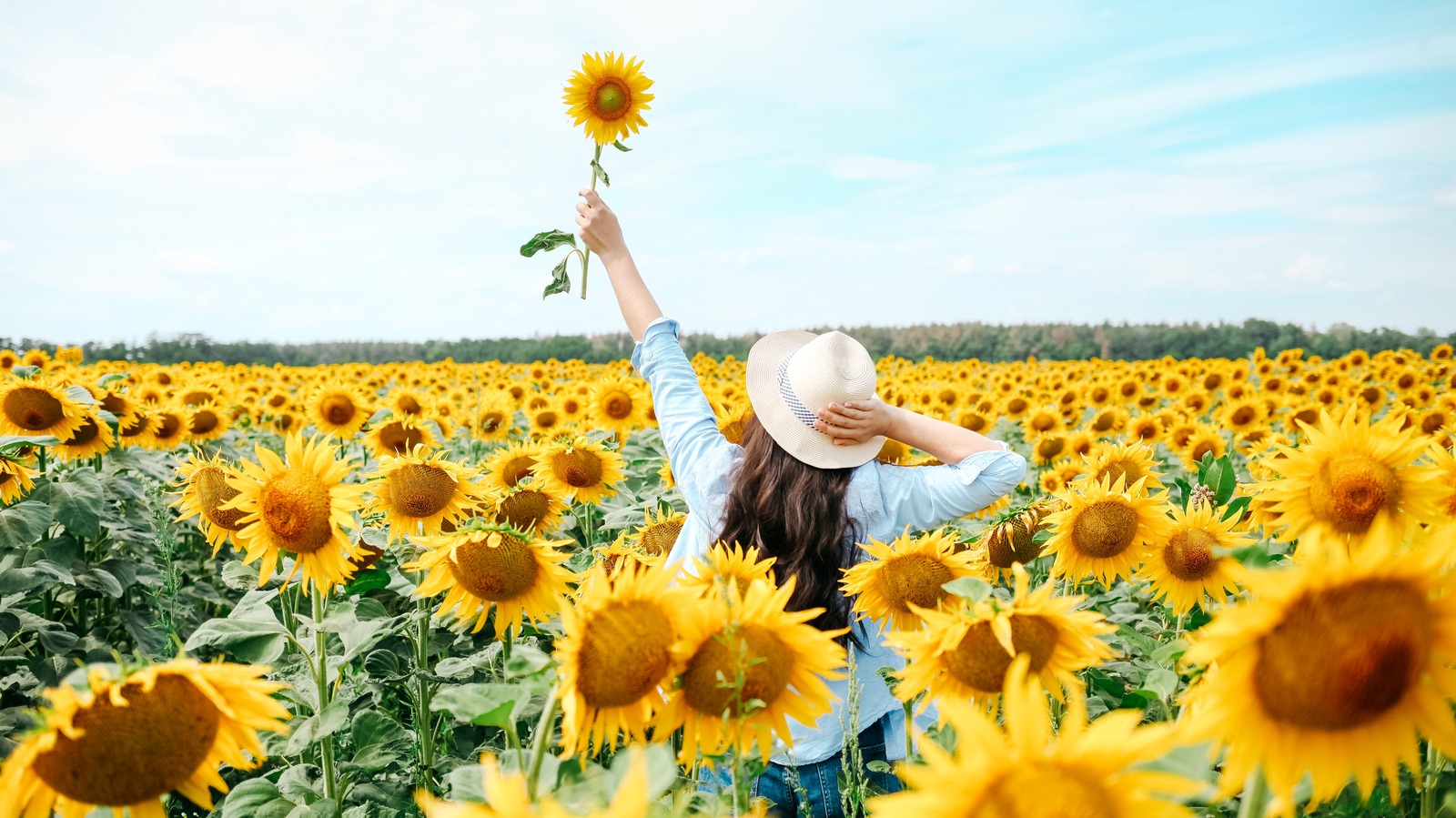 10 Stunning Sunflowers That Will Light Up Your Property
Ksenia Perminova/Shutterstock
Ensuring you have some diversity in your garden is important for preventing similar plants from competing for nutrients, as well as attracting more pollinators, reducing pest infestations and reducing weeds, recommends Hoselink. It is also important to bring in different plants with different colors and heights to promote design elements, such as rhythm, balance and proportion. The perfect addition would be something bright yet neutral, like the beautiful yellow display of a sunflower.
There are many positive reasons for planting sunflowers, such as their ability to attract many bees (which will also benefit the rest of your garden), according to The Micro Gardener. They also produce black and gray striped seeds that are edible and rich in vitamin E, magnesium and selenium. As the blooming season draws to a close, cutting off the long stems and creating a beautiful arrangement for your home is also an option. However, according to She Said Sunflower, some effort is needed to care for these beauties, as they generally need a regular watering schedule and plenty of sun. So let's see which type of sunflower might suit you best.
1. Russian Mammoth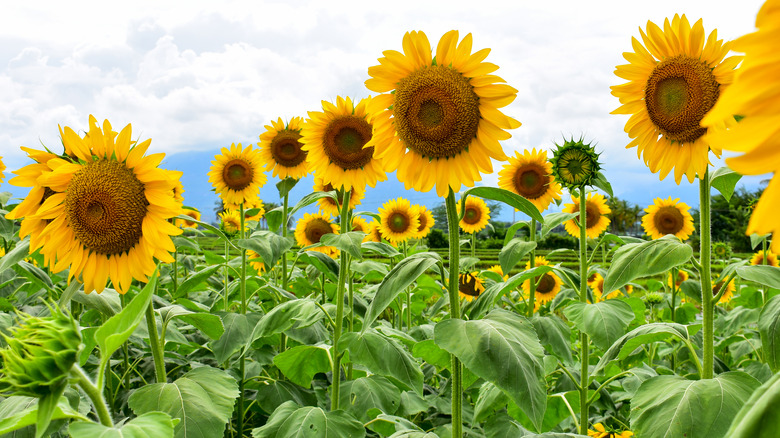 Ganeshkumar Durai/Shutterstock
The Russian Mammoth (Helianthus annuus) can reach 15 feet tall, while the flowers reach 12 to 14 inches wide, per American Meadows. They thrive in USDA Zones 1 through 10 and are known for being easy to grow and low maintenance. Typically, gardeners will use them as a growing screen or as a stunning background for a garden or meadow. This sunflower is also suitable for a variety of soil types and moisture levels.
2. Strawberry Blonde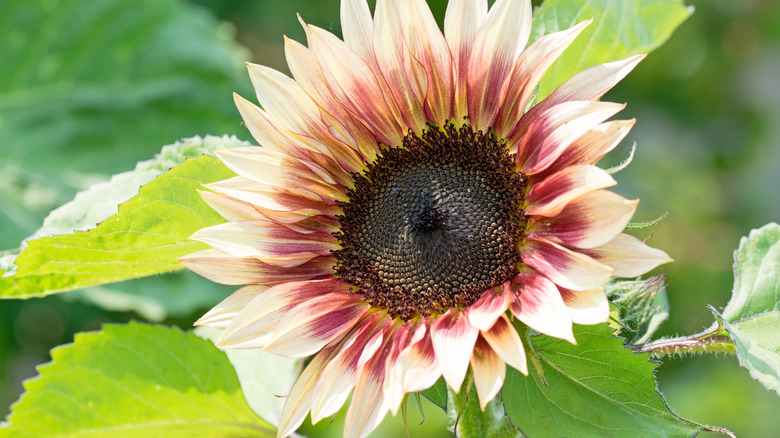 FLORESPHOTOGRAPHIC/Shutterstock
Strawberry Blonde (Helianthus annuus) is a stunning flower with shades of burgundy pink surrounding the base, as well as pastel yellow tips, by Pinetree Garden Seeds. This variety is capable of growing up to 5 to 6 feet and desires loose but also rich, well-drained soil. You should mix compost into the soil before sowing or transplanting, and also be careful not to add too much nitrogen as this can affect flower growth. This plant is found in USDA zones 4 through 9, according to the Knowledge Base.
3. Italian White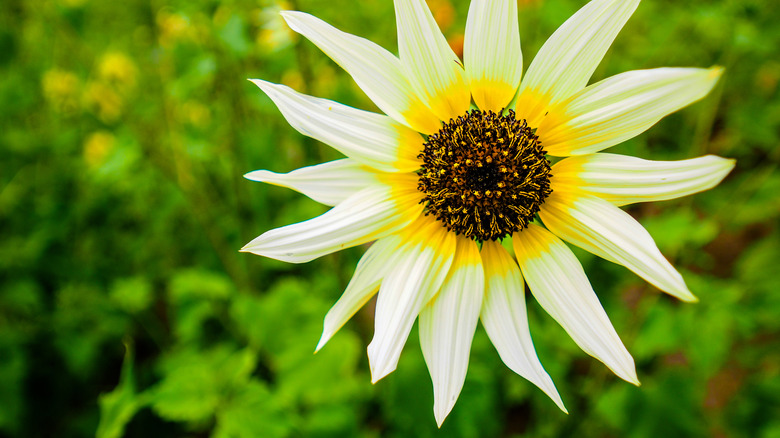 Koki Yamada/Shutterstock
Italian white (Helianthus annuus) produces 4-inch-wide flowers with a dark brown center, white petals and a yellow ring at the base, according to Park Seed. The plants bloom from early summer to late summer and can reach a height of 5 to 7 feet. If you're a bird lover, you'll also enjoy the little winged creatures this sunflower attracts, including butterflies. Italian White likes to sit in dry soil while in direct sunlight, and each flower should be grown 2 to 4 feet apart to allow foliage to grow.
4. Teddy Bear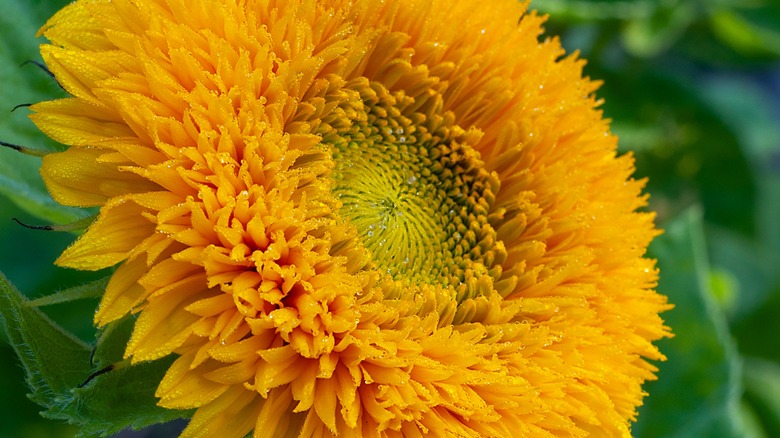 Elena Odareva/Shutterstock
Teddy bear (Helianthus annuus) produces large yellow sunflowers with a mummy appearance that can grow up to 6 feet tall, by Terroir Seeds. Because of their ability to provide shade and protection from the wind, teddy bears can help grow cucumbers and melons safely and provide shelter for other vegetables. If you sow its seeds from April to mid-June, you can enjoy its beautiful flowers from mid-summer to late fall, but it needs well-drained soil. This sunflower is found in USDA Zones 1-10, per American Meadows.
5. Earthwalker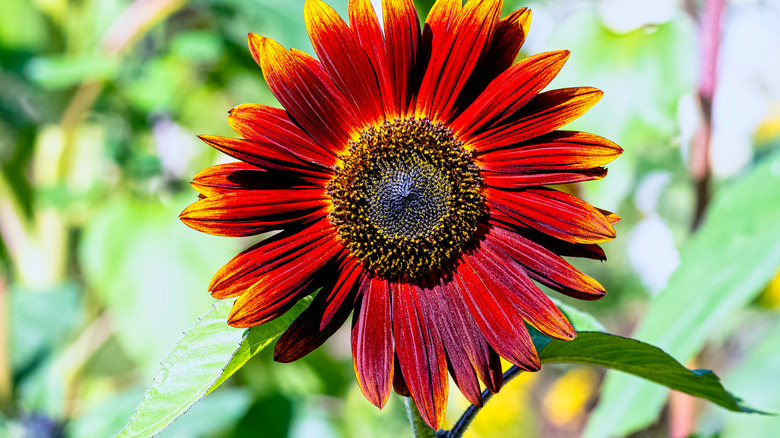 Marcin Mierzejewski/Shutterstock
Earthwalker (Helianthus annuus) is a beautiful copper colored sunflower with brilliant yellow tips, by Eden Brothers. You should usually plant this variety in the spring in order to take advantage of its beautiful summer flowering season. Earthwalker has an annual life cycle. It can grow up to 5 feet and is excellent at repelling pests if you are growing onions or squash nearby; it is also beautiful next to lupine flowers or cornflowers. It thrives in USDA zones 1 through 10 and can tolerate dry conditions and heat.
6. Moulin Rouge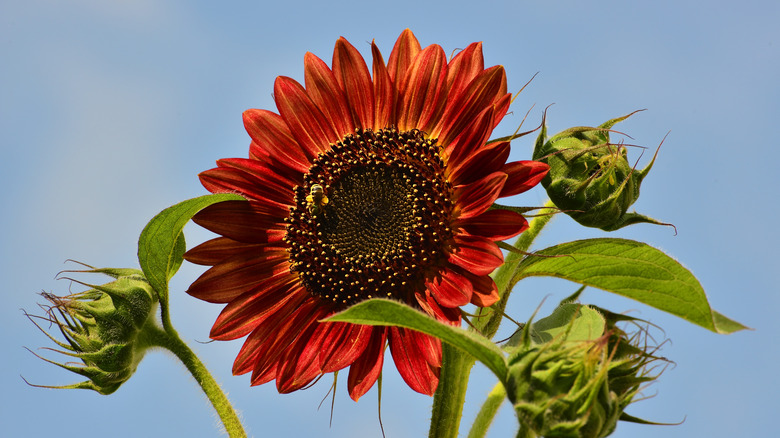 The Former Major/Shutterstock
Moulin rouge (Helianthus annuus) grows sunflowers that produce a fascinating dark red color with a golden ring around the middle, by Seeds Needs. It can reach 4 to 8 feet tall, with 18 inch foliage. Fortunately, this sunflower can grow in all USDA zones and likes to hang out in full sun. Moulin rouge is sure to enhance your yard design as you can use it as a border plant or place it along your driveway or fence. In addition, this flower blooms during the summer and desires soft, moist soil.
7. Skyscrapers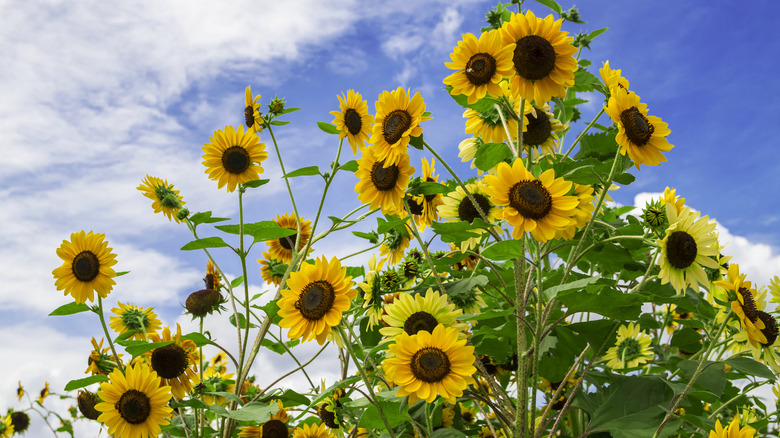 Workraket/Shutterstock
According to GardenTags, skyscraper sunflowers (Helianthus annuus) can reach a whopping 12 feet in height. Not only that, but its bright yellow flowers are 14 inches wide. Skyscrapers are somewhat heat and drought tolerant and only require occasional watering. Usually, this variety should be planted in moist, well-drained soil between March and April so that the flowers will bloom from mid-May to mid-September. This sunflower is found primarily in USDA Zones 3 through 9, by Gurney's Seed and Nursery.
8. Maximilian
The Maximilian Sunflower (Helianthus maximiliani) grows delicate bright yellow flowers that grow up to 5 inches wide, per wildflower. This plant can grow between 3 and 10 feet tall, and the flowers sprout petals with a slightly pointed tip that bends back to open the center. You can enjoy its flowering from late summer to November, and it is suitable for dry or wet, clay or sandy soils. This sunflower can be found in USDA zones 3-9 according to the USDA.
9. Swamp Sunflower
Swamp sunflowers (Helianthus angustifolius) produce symmetrical flowers with rounded edges, according to Lady Bird Johnson Wildflower Center. They typically grow between 1 and 3 feet tall, with 2 inch flowers. They bloom in October, produce a bright yellow color, and can be found throughout the South and Midwest. If you have a pond, this flower can make a nice border around it. It is also able to attract birds and bees. Its soil should be kept moist but it can tolerate a variety of sandy loam textures. This sunflower is found in USDA Zones 5-9 per Pond Informer.
10. Western Sunflower
Western sunflowers (Helianthus occidentalis) can grow up to 3 feet tall and produce soft, yellow flowers that form in a slight rosette shape, by Prairie Moon Nursery. The flowers bloom from July through September and thrive in USDA Zones 3-9. They also like full to partial sun, and the soil should be medium, medium or dry. It's a wonderful plant to introduce to your garden if you need to attract pollinators like bees and butterflies.