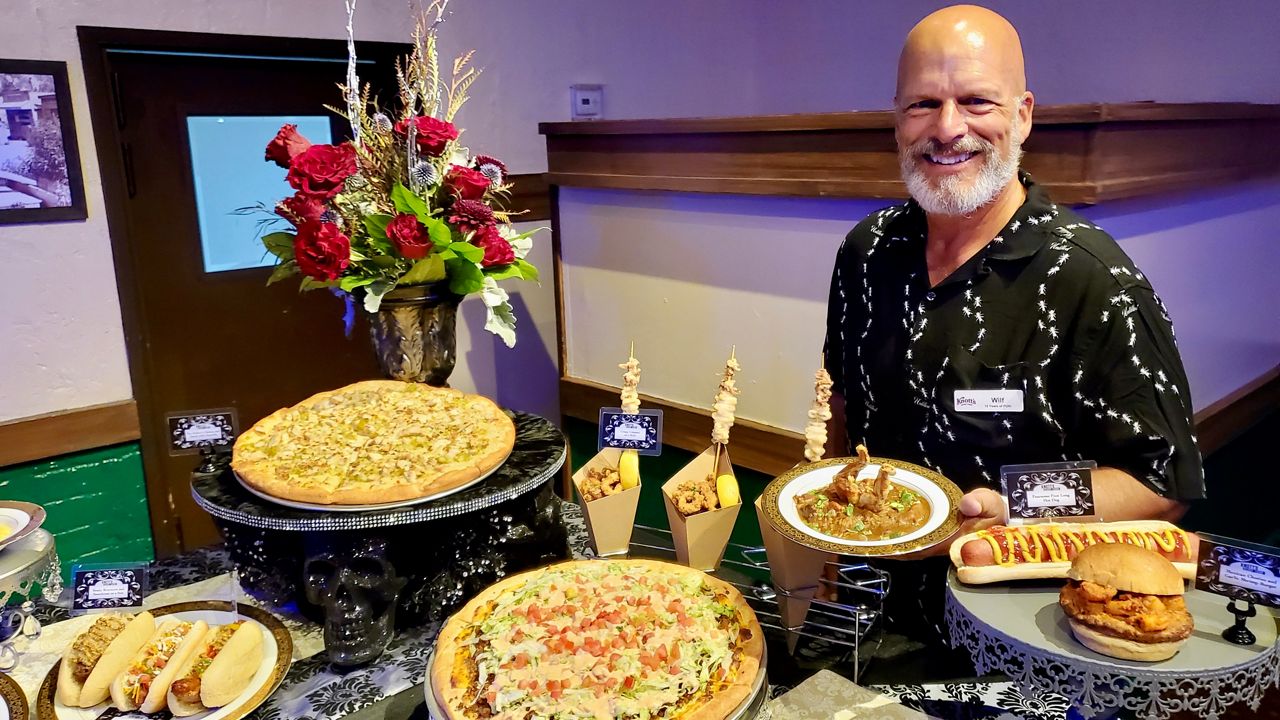 At Knott's Scary Farm, the food is as scary as the mazes
BUENA PARK, Calif. — Fried frog legs were bent over like a bowlegged diver propped up amid a shallow plate of brown sausage and rice.
The jagged black seaweed on the crab sushi roll looked like spider legs on a porch step.
One drink contained a plastic syringe half filled with a thick red liquid that looked like blood inside the strawberry lemonade.
While the mazes and spooky rides get most of Knott's Scary Farm gory glory, the themed food prepared for the month-plus event is equally spooky.
The transformation of Knott's Berry Farm into Knott's Scary Farm and the children's version of Knott's Spooky Farm, which runs from September 22 to Halloween night, October 31, brings out costumed ghosts and ghouls, as well as screams and screams, in all forms at the annual Haunted Halloween Event.
Many of the tens of thousands of visitors are there for the haunted mazes and spooky attractions to get the adrenaline pumping. But science shows that emotional distress can create hunger, and visitors will be in for a treat this year.
This Halloween season, Knott's Berry Farm food and beverage team goes above and beyond to create a cornucopia menu with crazy concoctions and spooky names to enhance the haunting experience.
"We have to compete with the [haunted] mazes," Wilf Seymour, food service manager at Knott's, told Spectrum News. "When you look at those mazes, it's amazing. So we need to release something that is equally fun. »
Some of the menu items this year include scary calamari – calamari rings on a stick – a fearsome foot-long hot dog, scary Philly cheese tater tots, macaroni and cheese ghouls with bites of steak and a zombie brain mint brownie stuffed inside a red churro.
For drinks, the team dresses up ordinary glasses with accessories. The drink "I Vant Your Blood" contains a plastic syringe filled with mashed strawberries inside a vodka-infused strawberry lemonade. The person must press the needle to release the puree into the drink and mix it.
The Redrum drink combined whiskey, grenadine, and pineapple juice with chamoy on the rim of the glass and topped with a small slice of pineapple.
Seymour said some drinks like Black Widow lemonade also come in bloodbags to add to the spine-themed fun.
"So you can put those drinks in a blood bag, walk around the park, and suck it down," Seymour said.
Dessert is equally fun and scary. The "It's alive rice Krispie Treat" is a green rice Krispie treat that looks like Frankenstein's monster. They offer a pecan pie brownie bomb and a "Murder Us" s'mores funnel cake.
And, of course, fall and Halloween wouldn't be what they are without candy corn, pumpkins and squash. Knott's team incorporates these flavors into certain foods and beverages.
There's a Perilous Pumpkin Cheesecake Funnel Cake, a Pumpkin Spice Latte, and a Canine Corn Macaron Dessert.
Seymour said developing all of these types of foods is a year-long process.
While the team is rolling out this year's spooky menu items, they're already busy developing concepts for next year's spooky farm.
"We are always thinking scary things," he said. "What do people want to eat during spooky farm time? So we have a lot of items, and at this time of year we want to use whatever ingredients are available."
When the team went through the concepts for this year's Scary Farm, they knew they wanted okra on the menu. But how were they going to make it scary?
Knott's Berry Farm chef Andre Lane suggested placing fried frog legs amid the spicy chicken and sausage stew.
"We were all like, 'Oh rude,'" Seymour recalled. "But it looks fun and awesome the way it is. It scares people a little."
But some ideas, however, were too extreme even for a scary event.
For the scary squids, initially Seymour wanted to fry the whole body of the squid with its head and tentacles and wedge it on a wooden stick.
"Nobody wanted to eat it. It looks really cool, but nobody wanted to eat it, so we ended up with [calamari] rings [on the stick]", he said. "It's not exactly what we wanted, but it's in the idea of ​​how we wanted to play with it.
Seymour said the team follows several basic rules when offering food and drink for the event: it has to be spicy, a bit spooky, and fun to do. Most items should also be on-the-go, something people can buy and eat as they head to their next maze or scare zone.
The rotting taco does the trick: ground beef, shredded cheese, diced lettuce and tomatoes, and tortilla chips in a bag.
"People love it," Seymour said. "Everything gets thrown in the bag. They can shake it up and eat it out of the bag."
Seymour knows that not every concept created by the team will be well received.
Some of the items shown during a media preview of the event on Thursday had mixed reviews. Some critics loved them – others not so much.
In terms of sales, Seymour said, Hollow's hatching chicken and chili pizza won't sell as well as the traditional plain cheese or pepperoni pizza.
But it's good and essential to have, he says.
"You want different tastes and flavors in the park," he said. "It's an opportunity to bring something new to Scary Farm, and it's always fun to do something scary."