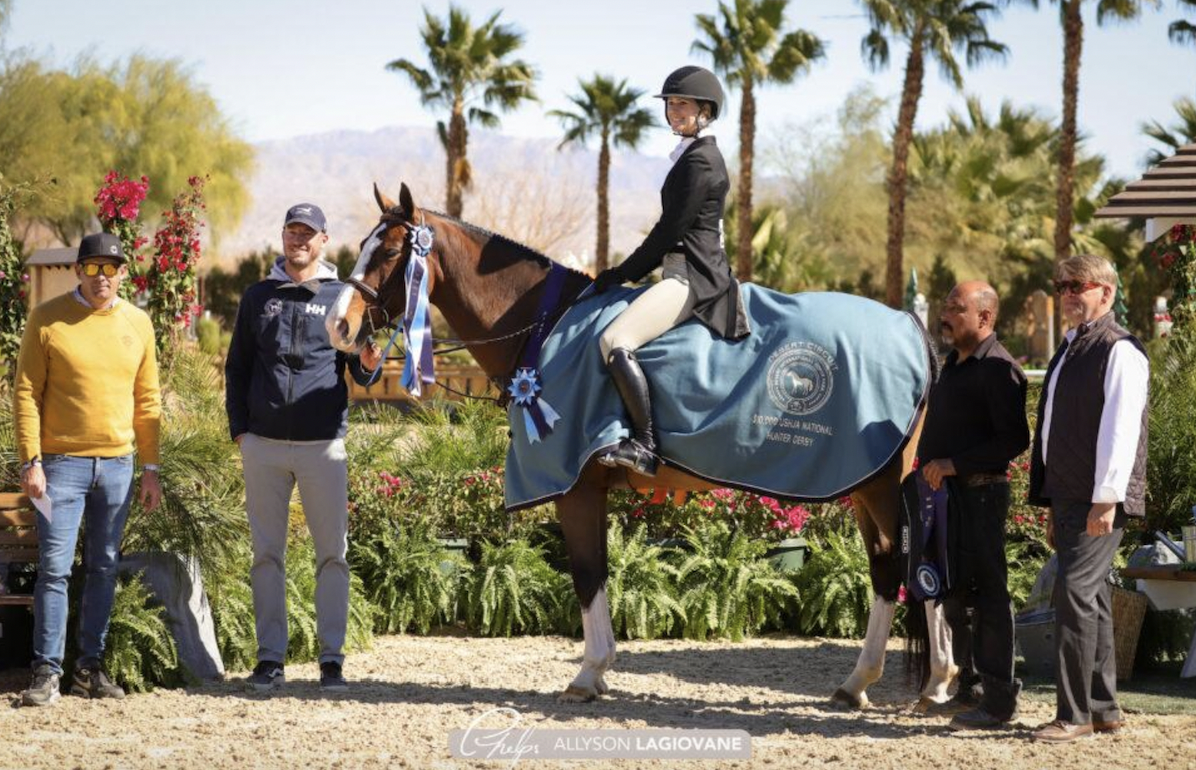 Chelsea Brittner and Berry De Maillet Take Victory in $10,000 Valencia Saddlery Ushja Hunter National Derby – Open
Hunter derby athletes traveled to Hunter 1 on Friday morning to compete in the $10,000 Valencia Saddlery USHJA National Hunter Derby – Open and the $10,000 USHJA Domino High Voltage National Hunter Derby – Junior/Amateur and win first place and the lion's share of the generous prize money. On a track laid out by Kevin Holowack, 39 entries showed up in the Open section and 46 entries competed for victory in the Junior/Amateur section. Kaylin Faidi's Chelsea Brittner and Berry De Maillet topped the Valencia Saddlery USHJA National Hunters Derby $10,000 with a score of 183.25. Skylar Wireman and MZ Farms LLC entry Bonne Starlight took the win in the Junior/Amateur section after achieving a total score of 182.
Holowack featured several on-course tests for horse-rider combinations to allow the best pairs to climb to the top on a classic hunter round and a practice round to test the top 12 in each section. Round one featured a two-stride run, four high options, as well as long flex lines and single oxers set to long runs. Riders could show off their mounts' flashy reach and open strides around the first course, which consisted of 12 elements. Brittner set the score to beat in 25th place on his second mount in the class, 11-year-old Selle Français gelding Berry De Maillet. She deeply impressed the judges with the horse's flashy leap and impressive reach on all four high options, earning a total score of 93 in the first round. Sitting just behind in second at the end of round one were Nina Alario and Spoken For with their score of 92, while Mavis Spencer and Gerardus sat on their heels with a score of 91 in third.

Back for practice, 12 combinations in each section faced a shortened course comprising eight obstacles, four of which presented high options for a bonus point each, and a trotting jump at the end of the arena. Returning in reverse order, the standings saw changes throughout round two and it was clear that victory could be within anyone's reach. On pole position with the highest first lap score, Brittner, of Sacramento, Calif., came back last for the practical lap knowing what she had to do to come out on top. She navigated Berry De Maillet easily around the course taking inside turns and letting him go the pace, meeting each jump with the power to wow the judges and earn a maximum score of 90.25 for an overall total score of 183. .25 and finally clinch the win. Spencer and Gerardus, owned by Georgy Maskrey-Segesman, climbed the leaderboard to claim second place with a second-round score of 90.5 and an overall score of 181.5. Alario and Middlepath Farm, LLC's Spoken For after scoring 89 in round two to finish on a two-round total of 181.
Immediately thereafter, 45 junior and amateur competitors traveled to Hunter 1 to compete for ribbons in the $10,000 USHJA Domino High Voltage National Hunter Derby – Junior/Amateur. Racing the same track as the Open competitors, Wireman emerged top of the leaderboard at the end of the first lap with a score of 94. Returning last, the young driver rode Bonne Starlight for a smooth and strategic lap, meeting every jump. with grace and showing off the wingspan and flashy jumping style of the 10-year-old Hanoverian gelding. The pair were rewarded with a practice score of 88 and victory. Shannon Kelly and Can Do This VA took second place, and Wireman also took third place with Captivated, owned by Shayne Wireman.
A fan-favorite class was brought back to the DIHP to end on Friday afternoon as groups gathered at Hunter 1 for the family class. A total of seven families of all ages and skill levels took part in the under-saddle class in groups of two or three, with the judge asking the riders to demonstrate skills like the extended trot, turning on the haunches, turning on the kick right and stop. The class is judged on each family's ability to go around the arena in the most synchronized way possible. Ashley and Violet Rheingold emerged victorious, taking champion honors aboard Bedford Falls and De Koningin, respectively.
Hunter competition at Desert Circuit III continues Saturday, February 5 at the DIHP, with junior and amateur athletes vying for their respective championships throughout the weekend.
FROM THE WINNERS' CIRCLE
Chelsea Brittner – 10,000 Valencia Saddlery USHJA National Hunter Derby – Open Winner
On the practical tour:
"I knew a lot of people had really great runs, so coming in last I just wanted to be as bold and as forward as possible and take risks because that was the only way for me to close the deal. . I started with a nice forward canter, tried to turn as hard as I could to jump two, and tried to shave a little to jump three in the corner. I let him sink a bit towards the two strides, and tried to turn as efficiently as possible towards the trot jump, but let him see it anyway at the last minute. I didn't want to surprise him too much there. The last three jumps, without losing control too much, I tried to take a nice canter forward – he loves that; he was a jumper in a past life so he's very familiar and very comfortable with that. I knew I could just relax and let it flow and that would be its best part. Everything worked in my favor. He was excellent, he was super focused and money conscious, and I'm super happy with him.
On Berry De Maillet:
"We affectionately call him 'Berry Potter' because he has a small scar on his forehead. He came to us at the end of August last summer, so he's relatively new to the game of hunting. We played. We started in the 3's, and he's done a few derbies now and he really shines in those classes. I think it's a bit of a comfort zone for him because in the tinkerers he can show off and use his jumping skills a bit. He's been great so far; he's really taken to his new job and has been perfect for his owner. We're thrilled with him. We can't ask for to Berry for doing better than him. I work in partnership with Beverly Jovais, of Chestnut Hill LLC, so I do a lot of riding and shows for her. I do a little coaching if she needs help with the ring conflicts. I worked a bit with Kaylin and Berry and it was fun to watch them grow together.
On the character of Berry De Maillet:
"He's kinda funny. He's a really cool guy in the stall. He is very calm and sleeps constantly. When you pick him up from the sleepers he's sleeping soundly with his eyes closed, but as soon as you go to work he's a workaholic. He loves his job, he has a lot of energy in a nice way and he's very professional when it comes to the ring. He's a big pup at the stall, but here he's completely professional. He can be a little mischievous at times. His first time in the hunter's circle, he didn't like the plants next to the stepping stones. He didn't understand why there were so many decorations and why all the fuss. He's very suspicious of it all, which caused some consternation at first, but he's really gotten used to it and has become quite comfortable in the hunter's circle.
On DIHP:

"It's kind of like a second home to me. My husband, Skyler, works on the management side, so I try to spend as much time as possible here to be with my husband. It was really fun to see the change and growth and they're just doing an amazing job The energy they put into this place, the feel, the atmosphere, it's just amazing and it's so exciting to see something like this on the Western coast.
Source: Desert International Horse Park press release
Photo: © Alysson Lagiovane