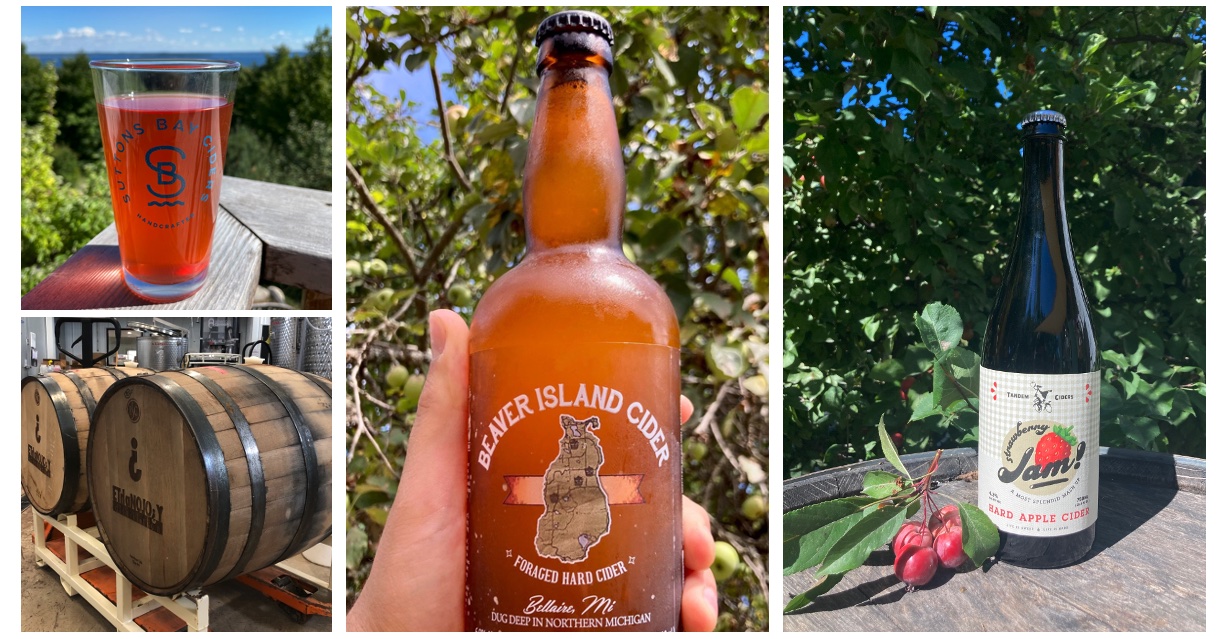 Cider season | Food | Northern Express
Four autumn ciders to delight all palettes
By Jillian Manning | September 17, 2022
At this time of year, the cider houses are hard at work harvesting the apples and kicking off all that magical fermentation. They advertise carefully aged concoctions and draft batches that are bursting with flavor. Perhaps because many of us grew up eating donuts and drinking NoMi apple cider (the non-alcoholic version) in the fall, cider season is very exciting – we know it's here. and glorious and gone before we could blink.
If, like us, you want to get into cider this fall, look no further. We reached out to local cider houses to learn more about their best new releases, some of which are here to stay and others that will only last as long as the barrel(s) last. So grab your growler and your favorite drinking mate – many of those fall flavors might be gone by the time the leaves fall.
Suttons Bay Ciders Sumac Cider
10530 E Hilltop Road, Suttons Bay | suttonsbayciders.com
What makes this cider special? In late summer and early fall, we all notice the big clusters of red berries on the sumac growing along the roads. This panicle of berries is actually edible! Native staghorn sumac tastes wonderful when steeped in cider. The taste reminds us of passion fruit, and it has a passionately red/orange color like pomegranate. We experimented last fall with a small batch, and it was so well received that we are putting it on the menu in full force.
What are some of the key ingredients? Staghorn sumac berries
How is it done? We specialize in using locally grown apples and locally harvested herbs and spices to enhance the unique flavors of our hard apple cider. Fresh sumac is placed in an infusion sock and steeped for several weeks to provide the most flavor.
When can people enjoy it? It will be available on tap throughout the fall. And because it's one of our favorites, we'll be creating Concentrated Sumac to use throughout winter and spring.
Townline Ciderworks Ethanologist
11595 US 31, Williamsburg | townlineciderworks.com
What makes this cider special? The Ethanologist is an ode to our neighborhood distillery up the road in Elk Rapids, Ethanology. This complex and herbaceous cider is a cocktail in its own right.
What are some of the key ingredients? Blueberries, cherries and strawberries
How is it done? We started with a Northern Spy apple-focused cider blend, which was then co-fermented with blueberries, cherries and strawberries. After fermentation, the cider was racked into Ethanology's Ferox Gin barrels for aging. (Ferox Gin is made with local wild juniper, yarrow, sumac and burdock root.) The cider has been left dry to bring out the subtle complexities of fruit, oak and forage.
When can people enjoy it? The Ethanologist will be available from mid-September to the end of September, and once it's gone, it's gone.
Beaver Island Cider from Bee Well Meadery
16 N Bridge Street, Bellaire | beewellmeadery.com
What makes this cider special? This fall, Bee Well Mead and Cider is bringing back a favorite with roots tied to America's Emerald Isle: Beaver Island. Although Beaver Island is known for its quiet sandy beaches, many miles of logging roads and slower pace, it is also home to many crab apple trees. With their high acid levels, sweet tannins and natural sugar, wild apples make excellent hard cider.
What are some of the key ingredients? Beaver Island Fresh Wild Apples
How is it done? Soon, Bee Well will be spending a few days and nights picking apples on the island, then returning home, only to turn on the apple squeezer and squeeze the island's little gems and begin the slow fermentation process that converts this sweet wild liquid in fizzy and crispy. , and dry hard cider. Owner Jeremy VanSice recently visited the island and came back happy to announce, "This is going to be a banner year for apples on the island!"
When can people enjoy it? Beaver Island Cider will be on tap and in bottles this fall at the Bellaire Tasting Room.
Strawberry jam from Cidres Tandem
2055 N Setterbo Rd., Suttons Bay | tandemciders.com
What makes this cider special? The strawberry jam is super special because we used local strawberries and made a relatively small batch. We also rarely produce ciders containing fruits other than apples.
What are some of the key ingredients? Local strawberries from Bardenhagen Berries and a McIntosh high apple mix, with Rhode Island Greening and Northern Spy
How is it done? We co-fermented 500 pounds of strawberries with apple juice until it reached 4.5% residual sugar. The filtering process removed much of the pink color, but the strawberry flavor and aroma is very strong.
When can people enjoy it? Strawberry jam is currently on tap at Tandem's tasting room. We made a limited run of bottles for our Cider Club summer outing, and bottles will soon be available in the tasting room as well!