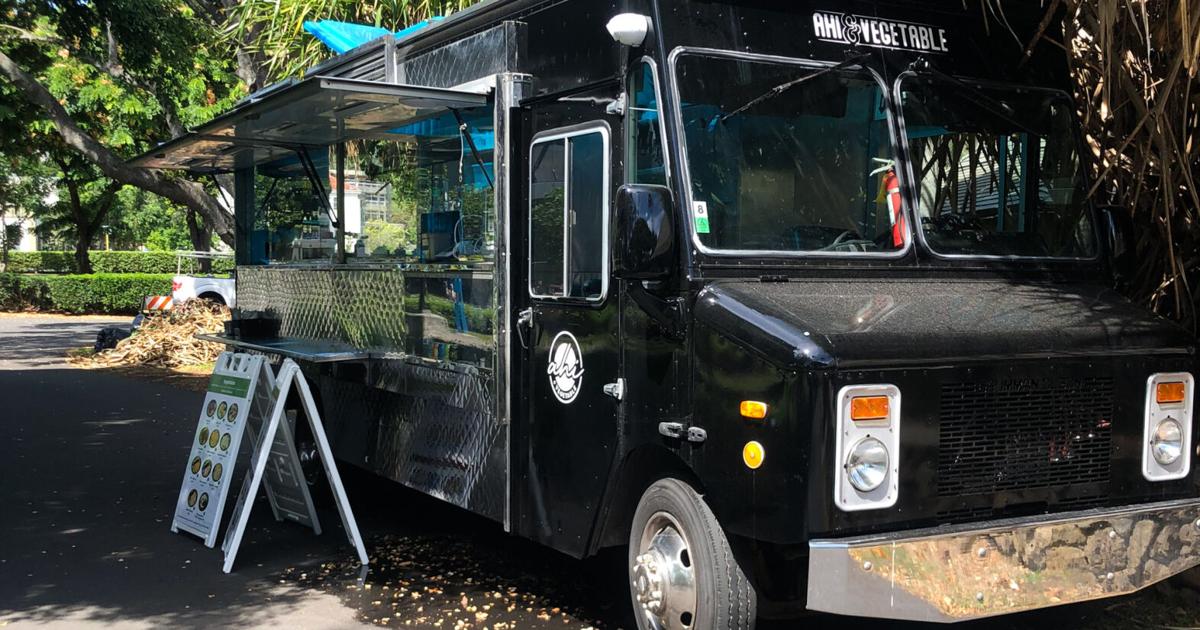 Food Truck Row welcomes a frosty new face | New
From sweet to savory, the University of Hawaii at Mānoa's Food Truck Row is packed with four new food trucks: Slice by HB Baking, HI Cravings, Big Belly Eatery, and Ahi & Vegetable.
Slice by HB Baking
The newest addition to the university's food truck lineup is a local, family-owned store called Slice by HB Baking, owned and operated by David and Heather Lukeli.
Serving up to eight dollar "cutie pies" which are miniature versions of their signature ice cream pies in mugs for students on the go. These cutiepies come in six different flavors: Strawberry Shortcake, Cuddly Bear, Rocky Road Cookie Dough, Matcha Cookies & Cream, Mint Chocolate Brownie, and Banana Caramel Butterfinger.
David Lukeli is excited to serve the campus community as a former KCC culinary graduate who wants to show students what they are capable of.
"I wanted to come back to school and reconnect with the students and show them the possibilities," David Lukeli said. "You go to school, you can start your own business and thrive there."
Slice by HB Baking also has a retail outlet at Jolene's Market Beretania in the Chinatown Cultural Plaza, where it has been operational for just over a year. For more information, visit their website at hbbaking.com.
HI cravings
Another addition to Food Truck Row is HI Cravings, a customizable acai bowl restaurant. Acai bowls often consist of various fruits, granola, and toppings placed on a bed of frozen, crushed acai berries.
"Our most popular bowl would be our original blend of fresh acai with all of our standard fruits (strawberries, bananas, watermelon, pineapple and grapes), honey and granola with the added toppings of our famous edible cookie dough," said the COO of HI Cravings, Ku. 'ulei Cleghorn. "For a more dessert bowl, our Bliss Bowl is perfect with all the bananas, honey, granola, chocolate chips, white chocolate chips, a drizzle of cookie butter and topped with an order of our cookie dough. cookies."
HI cravings is available on campus Tuesday through Friday from 10:00 a.m. to 9:00 p.m. – 2 p.m. The acai bowls food truck can be followed via his @hicravingsmobile instagram account where the truck can be seen around the island. HI Cravings also has a kiosk located in the Pearlridge Mall on the Wai Makai side. The kiosk location is open Tuesday to Saturday from 10:30 p.m. to 8 p.m. and Sunday from 10:30 a.m. to 6 p.m.
Restaurant Happy Belly
Adding to the lineup of recent additions to Food Truck Row is Happy Belly Eatery, a tasty stop for college students looking to try local Asian fusion-style lunches. Happy Belly Eatery is open to the public from: Tuesday, Wednesday and Thursday from 10 a.m. to 2 p.m.
"Our top plate is our mixed plate. It comes with a jumbo shrimp katsu and your choice is a chicken katsu blast," said Happy Belly Eatery cashier Travis Asaeli. "So it's chicken katsu topped with our spicy aioli sauce and our unagi sauce. And the chicken sriracha is our homemade honey sriracha.
For more, check out their instagram @happybellyeatery.
Ahi & Vegetables
ʻAhi and Vegetable is the newest place to get fresh fish right on campus, making it easy for University of Hawaiʻi students to sample authentic fish.
Ahi & Vegetable's goal is to serve food all over the island, which is how they came up with the concept of Ahi & Vegetable on wheels.
The ʻonolicious food truck prides itself on its fresh, local fish. All Ahi & Vegetable fish is sourced locally from Fresh Island Fish.
Jason Taiempo, who is the chef of the food truck ʻAhi and Vegetable, said the quality of the fish was the best he had ever worked with.
ʻAhi & Vegetable has two stores, one on Dillingham Boulevard and the other inside the Ala Moana Center.
"This is my first time going to the food truck in Mānoa, but I went to their store in Ala Moana," said Malulani Paiste, a second-year bioengineering student. "I've been ordering from them for about three years."
University of Hawaii at Mānoa student Eric Wolfe said he was surprised and excited when he found out Ahi and Vegetable were on campus.
The truck sells salads, sashimi, sushi, bento and poke, making it easy for customers to take their food on the go.
"My favorite thing about ʻAhi & Vegetable is how fresh and easy to scoop it is," Wolfe said.
ʻAhi and Vegetable is open 10 a.m. to 2 p.m. Monday through Friday. If you love fresh seafood, stop by Food Truck Row to try this new addition to the UH campus.
Food Truck Row is located near the Legacy Pathway entrance, across from the Zone 20 parking structure.