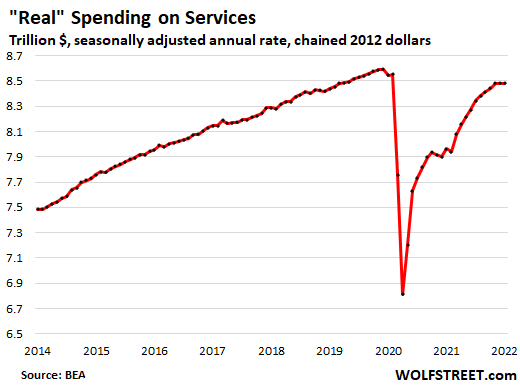 Inflation ate their lunch, but Americans made heroic efforts to spend
Personal income and expenses under skyrocketing inflation and Omicron.
By Wolf Richter for WOLF STREET.
Unadjusted for inflation, the personal income of all Americans combined, from all sources – wages, salaries, interest, dividends, rental income, unemployment benefits, stimulus checks, Social Security benefits, etc. but not counting capital gains – was essentially flat (seasonally adjusted) in January compared to December, fell 2.1% compared to the inflated January 2021 stimulus package and rose 11.5% compared to January 2020, according to the Bureau of Economic Analysis today.
But, in "real" terms, i.e. adjusted for runaway inflation, personal income from all sources fell 0.5% in January from December, and fell 7.7% compared to the inflated January 2021 stimulus and was only up 3.7% from January 2020. But wait… that was for all consumers combined, and the population grew.
On a per capita basis – more people dividing the national pie – and adjusted for inflation, less personal taxes: "real disposable income per capita" fell 0.5% for the month, fell 10 .1% from a year ago and was up just 1.8% from January 2020. In other words, runaway inflation over the past six months has absorbed more than income growth personnel and further reduced the purchasing power of the workforce:
But Americans heroically got rid of their declining "real" income.
Unadjusted for inflation, consumers increased their spending by 0.8% in January compared to December (seasonally adjusted data) and by 11.6% year-on-year, blowing money to left and right in a heroic effort to keep the economy moving.
Inflation adjusted: "real" consumer spending in January, seasonally adjusted, rebounded from December's decline. December's decline and January's equal rebound were likely the result of seasonal adjustments at a time when normal seasonality was upended by the pandemic, which I discussed when it also showed up in retail sales.
Compared to January 2021, consumers increased their "real" spending by 5.4%, and compared to January 2020, by 4.6%, outpacing inflation even as it absorbed their more certain income increases, and despite Omicron limiting service spending over the past three months, as we'll see in a moment.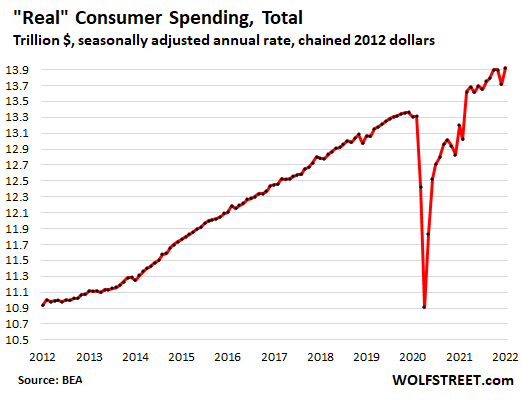 "Real" spending on durable goods – cars, cell phones, household appliances, furniture, sporting goods, etc. – was flat in January and down 0.4% from January 2021, but up 21.3% from January 2020.
During the pandemic, when services such as international travel, concerts and haircuts were hard to come by, consumers splurged on durable goods, fueled by cash they received from the government and by money they didn't have to pay for mortgages in forbearance and for rent under eviction bans, and by money they thought they had earned in stocks, cryptos or real estate .
So during the pandemic, there was this historic spike in spending on durable goods, even after adjusting for inflation, which was huge in durable goods (18.4% in January!), and part of the spike in the latest round of stimulus checks has now unraveled, but even inflation-adjusted spending on durable goods remains very high – and this historic massive increase in demand is one of the factors behind the shortages that have been manifesting everywhere: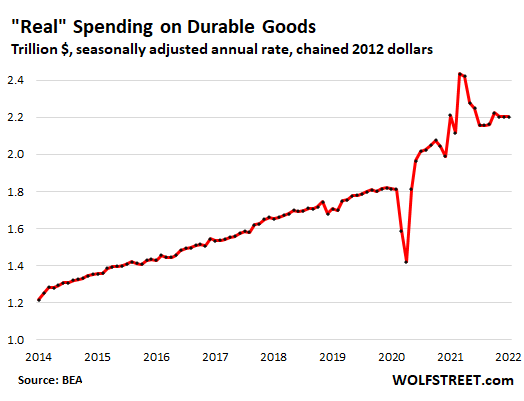 "Real" expenditure on non-durable goods – mainly food and drink, all kinds of household supplies and energy – have also increased during the pandemic, even adjusted for inflation, which has been massive for non-durable goods (9.8% in January ). Part of the increase during the pandemic is related to the shift to working from home, when what were once business expenses for food, toilet paper, coffee and other office supplies shifted to housekeeping and are become a consumption expenditure.
In January, real spending on non-durable goods was flat from December, but up 5.0% from January's inflated stimulus a year ago, and up 13.5% from two years ago :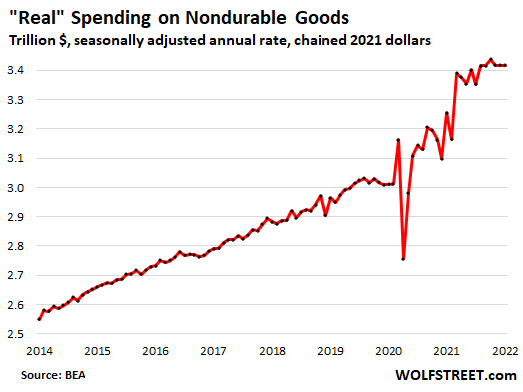 "Real" consumer spending is adjusted for inflation based on the PCE price index, which was also released today, and which is generally lower than the CPI, and which includes the core PCE price index, the government's weakest measure of inflation. questions, and which the Fed therefore uses for its inflation target.
But the CPI for durable goods rose 18.4% in January, the highest on record dating back to the 1950s (red line). And the CPI for non-durable goods jumped 9.8% (purple line).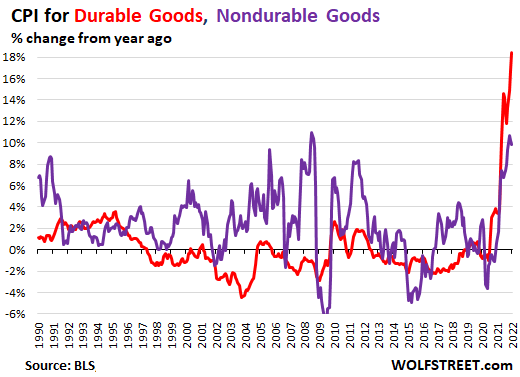 "Actual" expenditure on services – rent, insurance, health services, repairs, haircuts, accommodation, air fares, rental cars, etc. – had been totally wiped out during the pandemic, but then largely recovered.
In January, real spending on services was flat month-over-month for the third straight month, but at mid-2019 levels, after nearly recovering from the pre-pandemic peak.
The three-month stagnation was likely caused by Omicron when some people reduced certain services, such as airfare and non-emergency health services: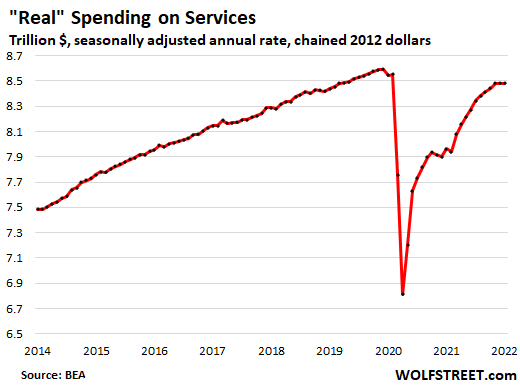 Despite Omicron, despite consumer gloom, despite shortages that make certain goods – like new cars – hard to buy and often involve long waits, and despite income gains being swallowed up by inflation, consumers are still in expense mode. And households with insufficient income are reloading their credit cards again, and many are using their homes as an ATM through withdrawal refis. Money is still extremely easy, and after $11 trillion in free money from the Fed and the government, delinquencies are at record highs and consumers are doing their thing by borrowing and consuming.
Do you like to read WOLF STREET and want to support it? You use ad blockers – I completely understand why – but you want to support the site? You can donate. I greatly appreciate it. Click on the mug of beer and iced tea to find out how:

Would you like to be notified by e-mail when WOLF STREET publishes a new article? Register here.