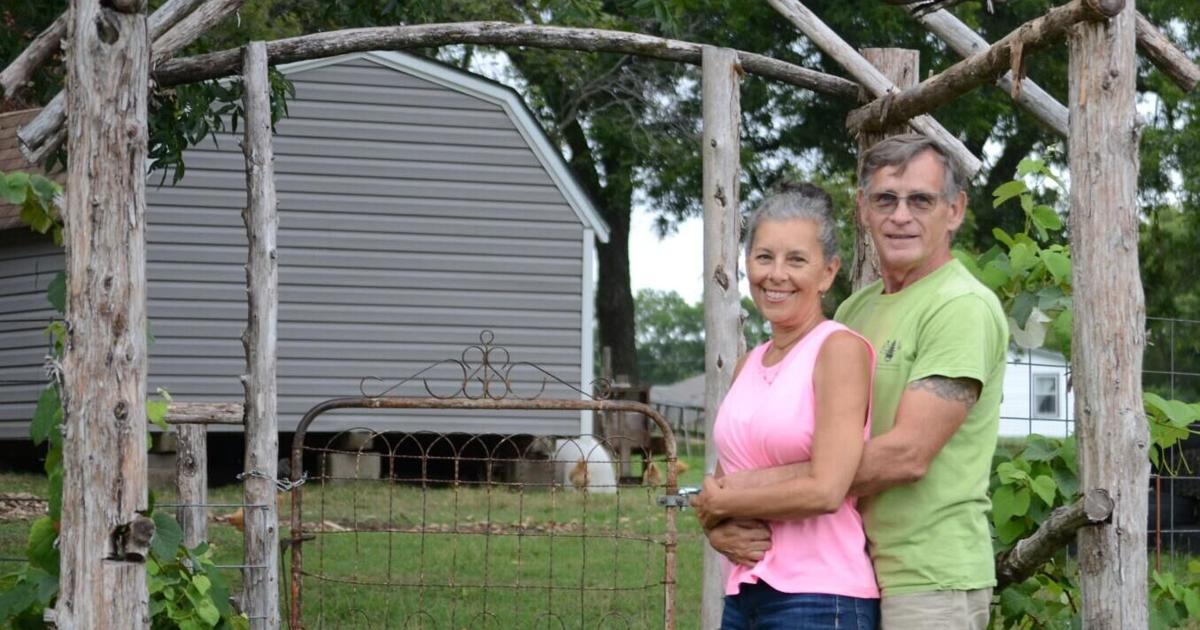 Oklahoma Couple Use Polyculture to Grow Sustainable Food, Farm on the Lake | Agriculture / Energy
PRIOROk so. — "All our neighbors thought we were crazy because they all bought a house to be by the lake. We bought a house to be by a lake and have a farm.
A backyard farm on the shore of Hudson Lake is just what Stephen and Tammi Bell of Pryor said they love. The couple started Waterline Farms with the goal of using sustainable, chemical-free methods to grow their own fruits, nuts and vegetables using permaculture techniques.
"We have an underlying goal of maintaining and developing habitat for wildlife such as birds, deer, pollinators and our resident eagle," Stephen said. "Recently, we received two grants from the Oklahoma Forest Department to create a riparian buffer, establish windbreaks, and provide forage and refuge for wildlife."
The goal is to use regenerative agriculture to add and maintain biomass in the soil. Waterline Farms is a member of the Soil for Water program through the National Center for Appropriate Technology. The goal of the program is to make the land more resilient to capture and retain water in the soil and serve as habitat for birds and other wildlife.
"We don't mow our lawn within 100 feet of the shoreline," Stephen said. "It allowed deeply rooted native perennials to grow."
The Soil for Water Network is made up of 92 American family farms united in the common goal of increasing soil water retention. Stephen and Tammi have been members since January and were one of the first registered farms in the state of Oklahoma.
In the Great Plains, biomass represents 3 to 8% of the land. For every acre of land with 1% biomass, the soil is capable of storing thousands of gallons of water.
"Instead of (water) seeping into the millions and millions of acres of the Great Plains, it's all draining," Tammi said. "That's why Kansas, Missouri, Oklahoma, we're really flooded because everything is falling apart."
The couple named their operation Waterline Farms because water from Hudson Lake is brought to Tulsa for human consumption. Stephen and Tammi are passionate about keeping it clean for themselves and others.
What grows?
Growing native plants for wildlife and increasing soil retention is just the start for Waterline Farms. Tammi engages in permaculture to grow her own food independently and sustainably.
"It's kind of a big back-to-nature philosophy about everything," Tammi said. "There is no trash can."
Tammi grows anything and everything in her garden using polyculture techniques. There are no straight lines. Fruits and vegetables grow and benefit from each other throughout the growing season. Fruits, Tammi said, include plums, peaches, nectarines, apricots, raspberries, blueberries, goji berries, aronia berries, elderberries and strawberries. The trees include two hazelnuts, three chestnuts and 25 pecans, while the vegetables range from asparagus, tomatoes, kale, broccoli, cucumbers, peppers, cantaloupe squash and more.
"I never wanted to be like a garden slave," Tammi said. "Everything is a bit like if it wants to grow, it has to grow."
Both traditional and non-traditional foods are grown on the farm using completely sustainable methods, with no chemical residues.
"Think of it like the beginning of time," Tammi said, pointing to the garden. "It was the grocery store. You think, 'I want a peach and I want a fig and I want a piece of asparagus and passion fruit.' It's just all together.
Before visitors can tour the garden, there are over 100 chickens alongside ducks, guinea fowl and turkeys to visit along the way. Each animal pays its share of egg production, meat revenue and effective pest control.
"We had horrible Japanese beetles last year," Stephen said. "Fortunately, the ducks arrived in time and completely decimated the Japanese beetles. This is part of not using pesticides. If you don't use pesticides, you better have an answer for this pest. You have to find a predator and ducks are good for that.
Birds aren't the only answer to finding an effective predator. Additionally, Waterline Farm raises American sheep, goats, and guinea pigs.
"Everyone had (American guinea pigs) in their backyards back in the 1800s and 1700s. They just mow the grass and eat the nuts," Tammi said. they don't get fat. They're not pot-bellied pigs, they're just little farm pigs.
Tammi says that's what makes the meat so good. Farm pigs like American guinea pigs run to eat ticks, baby snakes, grass, and pecans rather than eating a corn-based diet.
It does, however, require a little more patience. American guinea pigs will reach full size in about two to three years, peaking at around 250 to 300 pounds. Although not necessarily a large meat producing pig, it has retained its popularity with producers.
"The whole pig thing is like changing clothes, it's very trendy," Tammi said. "Four years ago American guinea pigs were all the rage. Then they're like, 'Oh, we like Kune Kune pigs' and then it changes.
On the farm, everything works to keep production costs low. Goat milk is fed to lambs to save on milk replacer. Permaculture vegetables and pecans are fed to the pigs, and the goats are left to graze the native fodder.
In the garden, permaculture includes mounds of soil where trees can be planted and the rotting wood on top will be used as fertilizer. Using this method allows Tammi to harvest water and fertilize the orchard naturally.
"With the trees filtering out there, I can keep going," Tammi said. This whole design is specifically designed to retain water because it is a precious resource.
pass it on
"What I really want people to know is that you can do it," Tammi said. "You can do it anywhere. Not everything needs to be structured, organized and direct.
Before moving to Oklahoma to farm, Stephen and Tammi lived in California and Hawaii. Getting locally involved was an essential step in learning about regenerative farming practices. Stephen is a member of the American Legion and commander of its local Veterans of Foreign Wars branch, and Tammi is a member of local organizations such as Ladies, Livestock and the Land, Ladies Homestead Gathering, Monarch Watch, Guard the Grand, and Oklahoma State. Master Gardener. program.
"It was the master gardeners who introduced me to permaculture," Tammi said. "Then chickens laid eggs on our porch and I tasted a fresh egg for the first time in my life at the age of 45. After that, I can never go back."
The 10-acre farm was all the couple needed to be a model farm for regenerative agriculture in their community.
"We're not here to get rich," Tammi said. "We are here to teach people the forgotten ways of our grandparents that no one knows about."
The way to spread this knowledge, the couple say, is through local FFA chapters and other youth organisations. Although they enjoy having all kinds of visitors, Stephen and Tammi particularly enjoy bringing young people to the farm.
Local organizations such as the Soil for Water Network put Waterline Farms on the radar for others to see and care about.
"It can work on its own with minimal chemicals and no mechanical effort," Stephen said. "You don't have to go out there and plow your field every year."
Garden fresh fruits and vegetables are produced at home and canned as many of them do not have a long shelf life. Although this lifestyle is not a family tradition for Stephen and Tammi, it is a tradition they encourage others to see and follow.
"We're eating better than ever," Tammi said. "We are increasing it. What we can save is much better food for less money than we would have. This is the reward. We have the advantage of raising and knowing where our food comes from.
Zahurones is associate editor of Farm Talk, of Parsons, Kan.