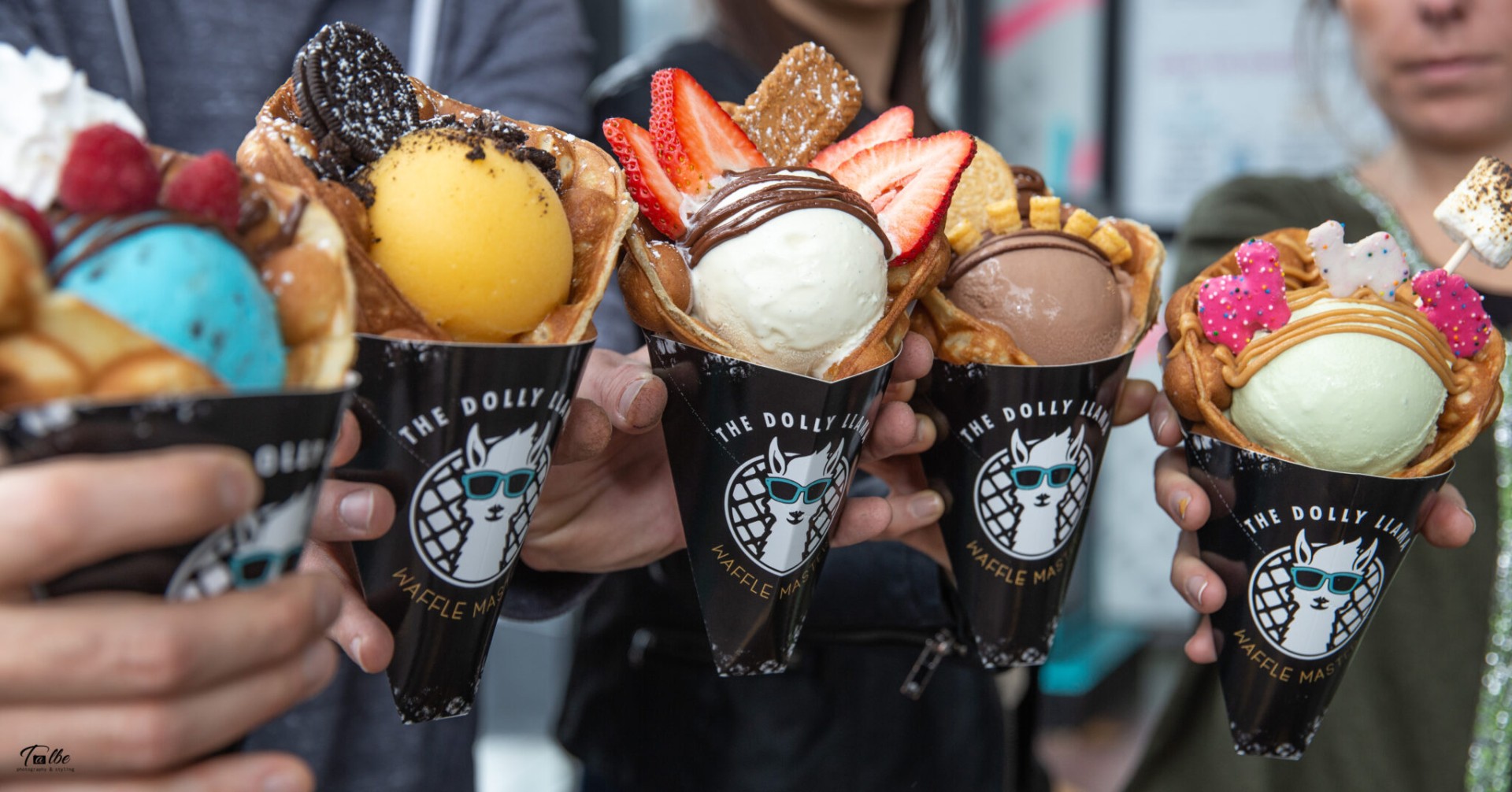 The Dolly Llama, The Waffle Master, opens in Las Vegas
The innovative brand of waffle and frozen desserts, The Dolly Llama, launches its first Nevada location in Las Vegas. Customers can indulge in deliciously sweet waffle recipes,-made from around the world, with unique ice cream flavors and irresistible toppings. The Dolly Llama is also known for its loaded shakes, ice cream sandwiches, and build-your-own waffle kits.
Founded by real estate magnate Eric Shomof and European restaurateur and entrepreneur Samuel Baroux, The Dolly Llama is the culmination of their dream of working together a reality. When these childhood friends-turned-businessmen got together, magic happened.
So where did The Dolly Llama come from to become a waffle master? Dolly is a real llama who lives on a beautiful farm in the south of France, bringing joy to everyone she meets. Llamas are social, friendly, and outgoing animals that generally like people. Samuel met Dolly at his favorite llama farm, which had a positive impact on him. When developing their concept, Samuel and Eric agreed that Dolly would be the perfect representation of their brand of ice cream and waffles. They wanted to bring all that llama spirit fun by creating wonderful dessert concoctions, happy customers, and awesome fun vibes.
The Dolly Llama was created in 2017, dominating the Southern California waffle scene with its unique take on the Bubble Waffle, in addition to Dolly Llama Shakes, Waffle Sticks and OG liege Waffles. Not all waffles need syrup. The signature item is Dolly's Dream, with her signature bubble waffle topped with Ultimate Cookie Monster ice cream, fresh strawberries, brownies and Nutella sauce. Sugar N' Spice features a signature bubble waffle topped with horchata ice cream, speculoos cookies, cinnamon toast crunch, and caramel sauce. Llama Gone Nuts combines a Signature bubble waffle topped with vanilla ice cream, fresh bananas, almonds, and peanut butter sauce. Party Animal is a signature bubble waffle topped with salted caramel ice cream, a sweeter chocolate bar, circus animal cookies and chocolate sauce.
This is not a traditional dessert shop but is designed to be a destination! With its aesthetic flair, interactive environment and unbeatable desserts, The Dolly Llama attracts customers including families, individuals, date nights, and students.
Other locations include Downtown Los Angeles, Koreatown (Los Angeles), Sherman Oaks (California), and Dallas. More locations are expected to open across the country. The Las Vegas location is located at 4632 S Maryland Pkwy, Suite 12, across from the University of Nevada, Las Vegas. For more information, visit thedollyllamaus.com and follow on Facebook @ thedollyllamaUnited StatesInstagram @ thedollyllama_us and Twitter@ TheDollyLlamaUSA.