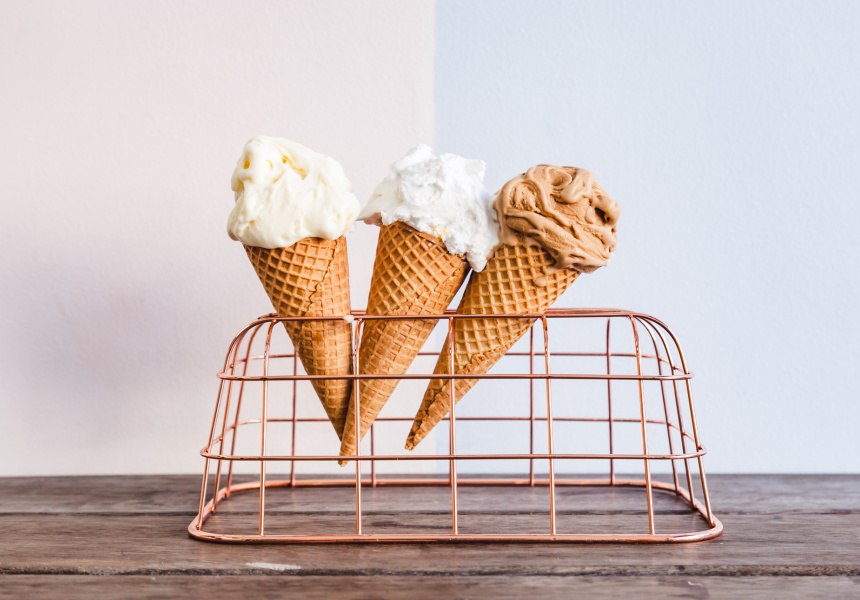 Where Melbourne Chefs Eat Ice Cream & Ice Cream – 2021 Edition
[ad_1]
Gelato is a pleasure that should be enjoyed all year round. But once the temperature hits 30 degrees, Melburnians are doubly likely to line up at the town's ice cream parlors and ice cream parlors, trying to decide which flavor (s) to try – then order. Everyone has their preferences: cup or cone, creamy or fruity, gelato or ice cream. And chefs are no exception. So we asked a group of Melbourne's top up and coming chefs where they go to get their cool summer hit and what they order when they are there.
Natalie Paull, Beatrix

"My best memory of ice cream in Melbourne dates back to the summer of 2013. After a sweltering day at Beatrix's, I chose strawberry, mascarpone and balsamic ice cream from the pozzetti at Gelateria Primavera on Spring Street, in London. 'time when Massimo Bidin and Anthony Femia were at the ice bar. I sat sweaty and tired like a dog on a crate of milk in the crusty aisle next to the grocer, and found God. I chased this flavor like Ahab after his whale, but I never saw it again.
"I only eat frozen desserts, but when the mood strikes me, I'm at Piccolina's ordering a two-scoop cone – one of chocolate and one of pistachio. It's still a perfect texture to lick. Sometimes I take pistachio like a milkshake because it's frankly a genius drink, and if I bring home a packet, I'll include lemon ice cream – kind of a grown-up Neapolitan trio.
Jung Eun Chae, Chae

"My favorite place for ice cream is Gelateria Bico. Aside from the fact that it was so conveniently located on the ground floor of the same Brunswick apartment [building] I lived there, this place is my favorite because it really shows their passion for ice cream. Pistachio is classic.
Jospeh Vargetto, Monsieur Bianco, Massi and Cucina Povera

"My favorite place to buy ice cream is Pidapipo on Lygon Street. It is made according to authentic recipes and has real Italian flavors. My favorite flavors are pistachio and fior di latte. Plus it's part of King & Godfree so you have the added bonus of the whole resort including Johnny's Green Room upstairs. And you can take a nice walk in the area with your gelato.
Almay Jordaan, old palm liqueur and neighborhood wine

"It's to Piccolina that I go back most often!" And almost always pistachio or hazelnut, because I like the almost salty side that they get right there, thanks to quality ingredients and methods. When it's on, I can't walk past the baklava either!
Andrea Vignali, Al Dente

"I live in Collingwood and spend a lot of time in the surrounding suburbs, so I'm spoiled for choice. Usually, if I'm on foot, I head straight for Piccolina on Smith Street. Otherwise we are happy to travel a bit far for the really good stuff at Boca Gelato in Ivanhoe. My favorite flavors from the Boca team are the chocolate honeycomb and their cookies and cream.
Dom Wilton, Hector's Deli

"Pidapipo: the best ice cream in Melbourne. In fact the best in Australia. My brother, who is also a Pidapipo addict, introduced me to the combination of orange, fior di latte and chocolate – it's fucking amazing. Like a splice, with the added weight and depth of chocolate. Add peanuts, whipped cream and Nutella if you have no limits like me.
Esca Khoo, Miss Mi

"I love ice cream so much that I even eat it for breakfast. When I think of dessert, I always think of ice creams, ice creams and sorbets. There are a lot of amazing ice cream and ice cream makers out there and it's a tough choice for the best, but there are a few that have a place in my heart and stomach. Beku Gelato for its delicious Asian-inspired flavors; they even have durian, which I used to have in Asia. Kariton Sorbetes by John Rivera; it really takes Filipino classics to new heights. We come from the same values ​​and experiences and I am so happy that it offers first class flavors which are typically served in restaurants to the public. Il Melograno in Northcote is another one I really like, from salty macadamia nut to citrus infused ricotta ice cream. Ice cream is so magical to me, I don't think I can ever do without it.
Audrey Allard, Holy Sugar

"Without a doubt, the Scoops of Luther. The sour cream-boysenberry is to die for, and their menu constantly changes to keep up with the seasons. I have watched Luther's Scoops grow their farmer's market business at their beautiful storefront in Brunswick and I am a firm believer in supporting small businesses.
Ned Trumble, Lagoon Dining

"Piccolina on Smith Street is my most frequent hangout for this wonderful thing we call gelato; they have a regular selection that is exceptional, as well as a rotating roster of nuanced and inspired flavors – all delicious. The addiction usually becomes particularly strong on my weekend, a little after noon on Monday – although it's an urge that obsesses me all the time, both awake and asleep. When I'm unable to drop by to refuel, or the urge is particularly strong, I implore, beg, and cajole my long-suffering partner to replenish the freezer with emergency supplies. Otherwise, the gas station on the way back makes an average and very reliable Golden Gaytime.
Raymond Tan, Raya

"My favorite gelato staple has to be Beku on Lygon Street. [Founder Agusta Triwahyu] makes the most amazing Southeast Asian flavors that are down my aisle that you can't find anywhere else… Ketan hitam (black sticky rice), chendol (a popular shaved ice) and tolak angin (a syrup mint based very popular in Indonesia) are my favorite.
Hamed Allahyari, Café Sunshine & Salamatea

"Piccolina is the best ice cream in the world! My favorite flavors are dark chocolate, strawberry and pistachio or hazelnut with a Nutella filling – usually in a cup but sometimes in a cone.
Shingo Tochimoto, Tochi Deli

"My favorite place is Luther's Scoops in Brunswick. They offer a unique, seasonal menu, well thought out with quality ingredients. I love their Earl Gray tea [ice-cream] with chocolate chips. It has a lovely tea flavor, just the right sweetness, and a perfectly balanced texture. It is rich, creamy, crunchy and chocolatey, while having a refreshing aftertaste.
Find the 2020 edition of this story here.
[ad_2]